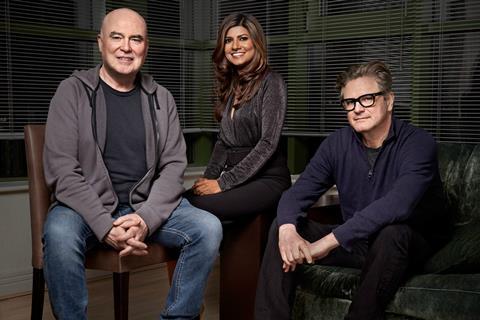 Colin Firth's Raindog Films is moving into high-end TV drama and documentaries after securing investment from the UK Creative Content EIS Fund, launched last year in association with the BFI.
Firth co-founded Raindog with former Sony Music CEO Ged Doherty in 2012 and has produced projects including Gavin Hood's Official Secrets, starring Keira Knightley, Jeff Nichols' Loving, which earned Ruth Negga an Oscar nomination, and Eye in the Sky, directed by Hood and starring Helen Mirren and Aaron Paul.
The undisclosed investment will see the indie move into TV drama, music content and documentaries; Raindog has hired writer-producer Trish D Chetty (pictured) to oversee the move.
The UK Creative Content Fund was launched last year to take advantage of the government's Enterprise Investment Scheme (EIS) to support independent companies working across film and television. The EIS is looking to invest around £2m in 10 independent companies per year.
Fund manager Calculus Capital, which specialises in securing EIS and venture capital trust investment, and screen finance company Stargrove Pictures, run by former Ingenious Media executive Stephen Fuss, oversee management of the fund.
This latest investment will see Fuss join the board of Raindog Films.
Raindog Films becomes the second company to have gained funding from the EIS after TV production company Wonderhood Studios, run by former Channel 4 chief executive David Abraham.