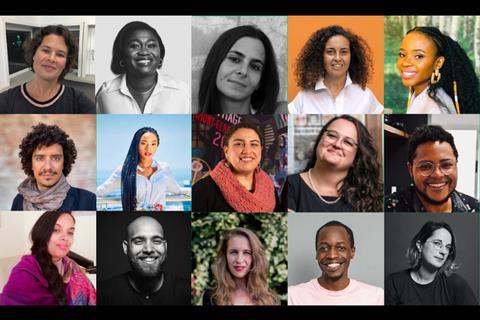 Africa filmmaking agency Realness Institute has selected 15 participants for its second Creative Producer Indaba, a lab for developing entrepreneurial, leadership and creative skills among producers looking to work on the continent.
The scheme is presented in partnership with European training body EAVE, International Film Festival Rotterdam (IFFR)'s industry platform IFFR Pro, and Marrakech International Film Festival's Atlas Workshops.
Scroll down for the list of selected producers
The 2022 lab will take place online from November 14-17 as part of the Atlas Workshops; then in person at IFFR in January and February 2023.
Its programme includes workshops, discussions, case studies and one-on-one meetings with mentorship focused on the development of projects.
Participants include South African producer Marion Isaacs, who is working on Milisuthando Bongela's documentary Milisuthando, a film about what it means to be human in the context of race.
The project won the IDFA prize for most promising documentary at the Durban Film Mart in 2018, and pitched at Hot Docs Forum in Canada earlier this year.
Experts meeting the producers include Nigerian filmmaker Femi Odugbemi, entrepreneur Dayo Ogunyemi, IFFR director Vanja Kaludjercic and former Israel Film Fund chief Katriel Schory.
Support for the scheme comes from the International Emerging Film Talent Association, Brazilian film support body Projeto Paradiso, and Switzerland-based philanthropic organisation The Storyboard Collective.
It is the latest edition of the Creative Producer Indaba scheme, which launched in 2020.
"These producers represent a diverse range of voices and interests with solid or growing networks from Africa and beyond," said Mehret Mandefro, director of development and partnership at the Realness Institute. "Following our highly successful CPI last year we have seen how these intense programmes can provide opportunities for filmmakers to move forward with their ideas and projects."
"We can no longer work in isolation, or in silos, the world has changed and collaboration is key," said Kristina Trapp, CEO at EAVE. "The CPI creates a solid and safe space for producers to find solution-driven strategies through sharing skills, ideas and networks."
"It is our vision to work side by side with a new generation of Moroccan, Arab and African filmmakers, and to create a space for exchange between international professionals and regional talents," added Thibaut Bracq, head of Atlas Workshops at Marrakech.
Creative Producer Indaba 2022 participants
Marion Isaacs (S Afr)
Matheus Mello (Braz-Moz)
Bramwel Iro (Ken)
Sawsan Yusuf (Egy)
Zoe Ramushu (Zim-S Afr)
Caroline Kganyago-Ralefeta (S Afr)
Lucia Meyer-Marais (S Afr)
Tracey-Lee Rainers (S Afr)
Mia Bittar (Sudan)
Pedro Soule (Cape Verde)
Bartholomeu Luiz (Braz)
Ellen Havenith (Neth)
Flavia Zanon (Switz)
Kesmat El Sayed (Egy-Ger)
Temilola Adebayo (Nig-Can)