EXCLUSIVE: First look at Two Tales, which sells to Italy among other territories.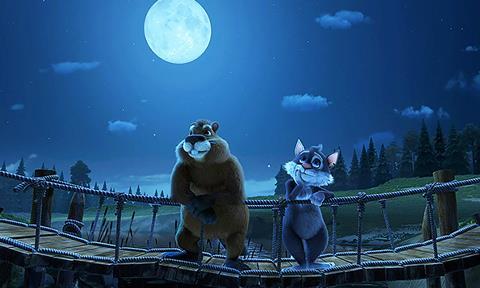 Los Angeles-based Recreation Media has struck a number of deals here on its family animations Two Tails and Princess In Wonderland led by a deal with Eagle Pictures in Italy.
Both films are currently in production and are being produced by Moscow-based animation studio Licensing Brands.
Recreation handles worldwide rights excluding CIS and Baltics and has licensed rights in CJ and CiMax (South Korea), Bir (Turkey), Empire (Middle East), Ideal (Iran), Green Media (Vietnam), Akson (Poland), Dexin (former Yugoslavia), One Vision (Indonesia), and Pro Films (Bulgaria).
Negotiations are underway for China and additional territories that are expected to close in the coming days.
Victor Azeev directed Two Tails (pictured, which centres on best friends, a beaver and a cat, who attempt to free their pals from alien abductors.
Marina Nefedova directed Princess In Wonderland about a young girl who discovers a magical book on her seventh birthday that transports her to a world filled with dragons and fantastic creatures.
"We are very excited to work with Licensing Brands and their highly experienced team," Recreation Media MD Juraj Barabas said.
"Both Two Tails and Princess In Wonderland are highly commercial projects with excellent top of the line production values and we are pleased to be bringing them to the international marketplace at a time when family entertainment is in such high demand."
Recreation Media's sales line-up includes crime thriller Lord Of Shanghai by Sherwood Hu and starring Hu Yun; The Debt with Stephen Dorff and David Strathairn; Bloodsucking Bastards with Pedro Pascal and Joel Murray; and The Vessel starring Martin Sheen, with Terrence Malick on board as executive producer.