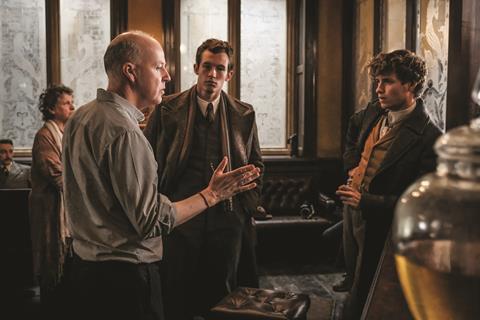 The UK's National Film and Television School (NFTS) has revealed key findings of a major new report, which it will launch today (March 20).
The NFTS Graduate Impact Report has analysed the contribution of the school's graduates to high-end TV, UK independent film and inward investment over a five-year period, from 2015-2019.
The figures reveal that 97% of the biggest budget inward investment films in the UK have NFTS graduate involvement. These include Fantastic Beasts…director David Yates and the Oscar-winning cinematographer of 1917, Roger Deakins.
The report also reveals the school has a graduate employment rate of 93% and that NFTS alumni shoot 25% of all high-end TV in the UK, despite only graduating eight cinematographers per year.
Additionally, one in four recent graduates are BAME versus 3% in the industry overall, according to the study.
Additional figures reveal more than 50% of the biggest box office successes since 2015 and two-thirds of all Netflix productions have had at least one NFTS graduate in a key role.
The report, compiled by OC&C Strategy Consultants, was commissioned ahead of the 50th anniversary of the NFTS in 2021 and was due to be released on March 18 at the House of Lords in Westminster, central London, led by a keynote speech from David Puttnam.
However, this was cancelled in the wake of the coronavirus outbreak and Puttnam's speech will now be hosted online from today, while hard copies of the report will be mailed to invited guests.
The findings come at a time when there is significant demand for below-the-line talent in the UK, where the tax credit has contributed to a boom in production of big-budget features and series.
In the speech, Puttnam applauded the accomplishments of the NFTS. But he also issued a stark warning regarding training in the UK and said: "We've been incredibly complacent about talent development… Unless we take the issue of screen development and talent development seriously, we will actually lose many of the advantages we've managed to build up over those years.
"We can't be complacent. We have an extraordinary success story on our hands and it's up to us to build it. No more so than a time like this when the economy is seemingly almost in freefall, when we are locked into our houses and which every single family and individual in the country has got to be concerned and worried about the future.
"If we're to have a future, we need skills. To have skills, we need investment. To have investment we need to be constantly making our case to why we are a really significant component of the UK economy."
Commenting on the report, NFTS director Jon Wardle said: "The majority of all high-end television has an NFTS graduate in a key role and yet, our grads make up less than 4% of the 100,000 strong UK film and TV production workforce… Moving forward, we will continue our mission which is to produce the people that power production both in the UK and globally."