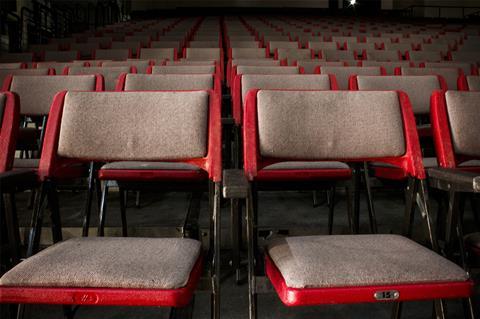 Pressing issues facing the film industry in the next five years include the TV and film worlds converging on the same digital platforms, traditional funding models needing to evolve, and the challenges of achieving gender equality starting from today's dismal statistics, according to the 2018 Nostradamus report, an annual future-facing study presented by the Goteborg Film Festival with support from Lindholmen Science Park.
Author Johanna Koljonen unveiled the fifth-annual report at Goteborg's Nordic Film Market. As usual, she has interviewed a range of experts from the TV and film world looking ahead at the next five years.
"In 2023, the number of storytelling voices will not be smaller, but the industry will be leaner, and a new normal will have started to take shape," Koljonen predicts in the report's introduction.
Some key points raised are:
The consumer relationship
The report suggests, "Pressures on the window system, territoriality and other aspects of the traditional funding model necessitate completely new approaches to monetising audience attention. In this, TV is far ahead of film, but born-digital services have the most advantages: a direct consumer relationship, access to data, and no traditional ways of doing things inherited from another media landscape or another century."
Claus Ladegaard, the new CEO of the Danish Film Institute said in the report, "Somehow it really thrills me that we can win, or we can fail. We can lose it all within the next 2, 4, 6 years! But I also think we can win. We can emerge, as a film industry, better and with more impact than we had before. But we need to be very clever, discuss, make the right decisions. Making the right decisions is much more important now than it was 5 or 10 years ago. Then the situation was stable, it was about which films to fund. Now it has to do with how we choose to design the whole funding system and develop the film industry in the future."
Edith Sepp, CEO of the Estonian Film Institute added: "I think it would be good to move the emphasis [of the support schemes] from production to development and distribution…I think every single film has a very specific, maybe even small audience. We just have to find it."
The theatrical experience
Cinemas have an important place in the "experience economy" but "cinemas cannot be responsible for the first run of all releases. Different paths through the theatrical window would be a logical solution. Some kind of compromise from exhibitors on holdbacks is expected in the next few years."
With a more selective theatrical offering, Europe needs to produce more hits with high production values.
Patrick von Sychowski, editor of Celluloid Junkie, told the report: "A worrying trend is this major consolidation drive, with big cinema chains buying up medium cinema chains and becoming global, gigantic cinema corporations. In a way they have to be that, because of [the pressure from the] consolidated Hollywood studios, and technology companies like Netflix and Apple. But a lot of the innovation and daring crazy ideas come from the small to medium-sized cinema operators — the Alamo Drafthouse, the iPics, the Everyman Cinemas, Bio Rio in Stockholm. If we only have these global corporations, then we don't have a healthy ecosystem, in which new ideas, new trends, new types of films, and new audiences can find a home."
Digital services across film and TV
In the digital world, especially for TV, the report writes, "Distinctions between linear and library services as well as between free and premium brands are blurring… Film does not perform well in linear, and acquisitions for the on-demand players are often in uncomfortable competition with all other streaming platforms. VOD services are only starting to identify how to effectively premiere feature length content. Transactional VOD is still expected to grow in significance."
Smaller European services will continue to exist alongside the big US players. "As the competition is not for sales or box office dollars, but for audience attention, relevance will be as important as quality and production value."
Marie Nilsson, CEO of Mediavision, said in the report, "TVOD has started out very slowly, but over time I can't imagine that the vast majority of the audience would not find films interesting. What used to be DVD or Blu-Ray should arguably be able to move to TVOD, which is a better distribution channel in so many ways. During 2017 we've actually seen some small growth… Assuming that the film industry manages to maintain [windows of any kind], then TVOD should grow over time."
Walter Iuzzolino, co-creator of Walter Presents, added, "We are in the middle of a terrible war, and then there will be a marriage. In five years I genuinely think that the integration of streaming and TV will have been, if not completed, then 75% advanced."
He added, "I think some TV channels will literally become joint ventures with the giant streamers, and Netflix will buy channels. Because Netflix are brilliant at colonizing the world, but they don't have the marketing real estate in terms of being able to shape the national conversation."
Gender parity
Time's Up is very welcome movement, and change is indeed coming, but "the abysmal starting situation means that reaching full gender parity will take rather more than five years," Nostradamus predicts.
The report suggests, "All over the world, women in the film industry are organising themselves to put pressure on decision makers. Audience groups are advocating online against sexism and racism in hiring decisions, casting and representation. It would be a shame if traditional film industry decision-makers — those who do not trust women to produce, write or direct — decided to gamble the box office on maintaining the status quo."
This year's expert interviewees also include Nadira Azermai, CEO, ScriptBook; Ivar Køhn, Head of Drama, NRK; and Marike Muselaers, Co-CEO, Lumière Group.
The full report can be found at https://goteborgfilmfestival.se/en/nostradamus/2018-nostradamus-report