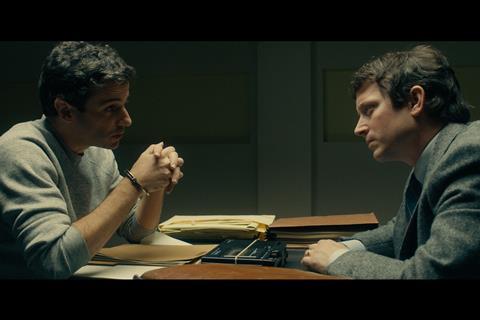 RLJE Films has acquired North American rights to Ted Bundy drama No Man Of God starring Elijah Wood and Luke Kirby ahead of its Tribeca Festival world premiere in June.
Based on real transcripts and conversations between serial killer Bundy (Kirby) and FBI agent Bill Hagmaier (Wood), the film centres on the complicated relationship that evolved between the men while Bundy was on Death Row awaiting execution.
Amber Sealey (No Light And No Land Anywhere) directed the feature from a screenplay by Kit Lesser. Rounding out the cast are Aleksa Palladino and Robert Patrick.
Producers are Wood, Daniel Noah, Lisa Whalen and Kim Sherman.
RLJE Films chief acquisitions officer Mark Ward negotiated the deal with Whalen and Stacy Jorgensen on behalf of Company X / SpectreVision and the filmmakers. XYZ Films handles international sales.
Company X is the sister label to SpectreVision, the genre label run by Wood, Whalen and Noah, whose credits include Mandy, A Girl Walks Home Alone At Night, and Cooties.
RLJE Films features include horror film The Dark And The Wicked from Bryan Bertino; SXSW world premiere Jakob's Wife from director Travis Stevens; and David Oyelowo's directorial debut The Water Man.