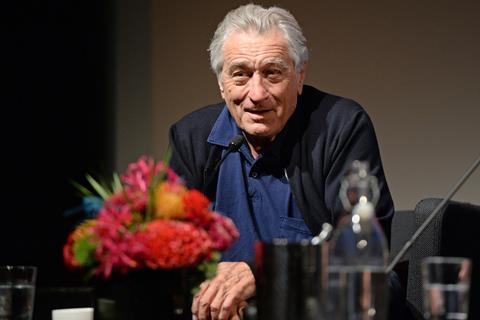 Robert De Niro, who stars in Netflix awards contender and BFI London Film Festival (LFF) closing night selection The Irishman, has said comic book adaptations and films employing extensive use of computer technology are "another type of entertainment" to the cinema he has made throughout his career.
Speaking at an LFF Screen Talk session on Friday (11), De Niro said, "The technological stuff can only go so far. It's not going to change other things. If it does to such a point it becomes something that is not what a person is, what a human is. It can be another type of entertainment, like comic strip things, Marvel. The comic book character-type things, cartoony stuff."
The actor was responding to a question from an audience member about whether technological advances, including the de-ageing process used on him and other cast members in Martin Scorsese's latest film The Irishman, have changed his acting process, and whether he would still encourage emerging actors to follow a method acting style.
De Niro cited American Hustle co-stars Christian Bale and Bradley Cooper, Joker co-star Joaquin Phoenix, The Irishman co-star Stephen Graham, and Cate Blanchett, as examples of contemporary actors whose work he greatly admires.
A frequent commentator on political issues, De Niro also reasserted his views on US president Donald Trump.
"Everything has been turned upside-down because of Trump, because he's such a dirty player that it's amazing to me that he has just upended it and is getting away with it. He won't get away with it forever.
"But he's getting away with saying these things about every institution. We have to defend these institutions, including the fourth estate, the press, because he's destroyed it. And for only one reason – to save himself. It's pretty disgusting. I've got to speak out constantly against this administration because we have to right this wrong."
De Niro reflected on his career of more than 50 years, telling anecdotes about Mean Streets, The Godfather II, The King Of Comedy, Heat, and Analyze This.
Ahead of Sunday's closing night screening of The Irishman, the audience watched clips in which De Niro's titular character aka Frank Sheeran accepts an award from Teamsters union boss Jimmy Hoffa, played by Al Pacino, and later receives a rare gold ring from mobster Russell Bufalino (Joe Pesci).