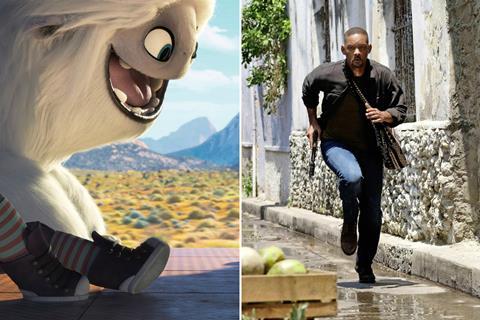 Two contrasting titles are among the new openers at the UK box office this weekend, as Universal's animated comedy Abominable goes up against Paramount's Will Smith action drama Gemini Man.
However the new openers will have to score strongly to knock Warner Bros' Joker from top spot, which scored a huge £12.6m debut last weekend.
Abominable is a DreamWorks Animation production, about a magical Yeti in Shanghai on a quest to reunite with his family on Mount Everest. Chloe Bennet, Albert Tsai and Tenzing Norgay Trainor lead the voice cast.
The film is written and directed by Jill Culton, who started in the industry as a storyboard artist at Pixar on titles including Toy Story, Toy Story 2, and A Bug's Life.
Her sole previous directorial feature was 2006's Open Season (co-directed with Roger Allers), which made her the first female director of a big-budget CGI film. That film started on £1.7m in the UK, growing to £7.6m.
This year has seen several high-performing CGI titles, especially from the Disney canon. The Lion King and Toy Story 4 were on £75.3m and £65.8m as of last weekend; while Universal has pushed Dreamworks' How To Train Your Dragon: The Hidden World to £20m, and The Secret Life Of Pets 2 to £18.9m this year.
The higher marks should be well beyond Abominable's reach; landing in the region of the latter two titles would represent a decent result for an original animation without top-level voice cast.
The film has already opened in several major markets including the US across the past two weeks, and is up to $81.3m (£64.5m) globally as of last weekend.
Ang Lee's Gemini Man is the director's latest attempt at success with 120 frames-per-second high frame rate (HFR). The film centres an over-the-hill hitman, who faces off against a younger clone of himself. Smith plays both characters, with 'de-aging' technology used for the younger role.
Lee's previous effort at HFR was considered a poor box office performer. Released in February 2017 through Sony, Billy Lynn's Long Halftime Walk grossed just £31,008 in the UK, from a £14,896 start.
However, the enduring star power of Smith, plus a more easily definable genre title, will guarantee a higher result for Gemini Man.
Lee's record gross in the UK is for 2012's Life Of Pi, which started on £3.6m and grew to an impressive £30m. He has decent box office pedigree across a range of genres, with seven titles that have passed the £1m mark.
Festival films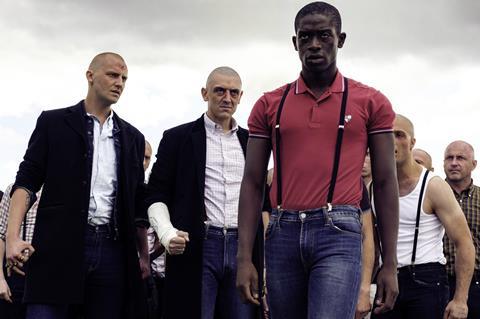 In the independent sector, Lionsgate is releasing Adewale Akinnuoye-Agbaje's directorial debut Farming, a UK-US-France co-production which launched at Toronto 2018.
It won the well-regarded Michael Powell award for best British feature film at the Edinburgh International Film Festival this year, as well as best performance for lead Damson Idris.
Based on the filmmaker's own childhood, Farming follows a young Nigerian boy who is sent to live with white British parents. His prospects of a better life are challenged when he becomes the leader of a white skinhead gang.
Akinnuoye-Agbaje is best known as an actor, with credits including Suicide Squad, Thor: The Dark World, and as Mr. Eko in TV's Lost.
For genre comparison, Shane Meadows' skinhead drama This Is England started with £207,676 in April 2007, finishing on £1.5m.
eOne is releasing The Day Shall Come, the second film from Four Lions filmmaker Chris Morris.
Known for his cutting satirical comedy from both that film and 1990s TV hits The Day Today and Brass Eye, Morris' new film debuted at SXSW in March this year.
It follows a poor preacher in Miami, and the FBI's covert attempts to turn him into a criminal by fuelling his revolutionary dreams.
Four Lions opened to £608,608 in May 2010, closing on £2.9m.
Signature Entertainment is releasing American Woman starring Sienna Miller, who plays a woman raising her young grandson following the disappearance of her daughter.
Director Jake Scott previously made 2010 drama Welcome To The Rileys, which took £1,415 from one screen. He has worked extensively in music videos, for songs including R.E.M.'s 'Everybody Hurts', Radiohead's 'Fake Plastic Trees', and Smashing Pumpkins' 'Disarm'.
MusicFilmNetwork has Liam Firmager's Suzi Q, an Australian documentary about trailblazing US rock singer Suzi Quatro.
Musicians including Debbie Harry, Joan Jett, and Alice Cooper have contributed to the film.
Smaller releases include New Wave Films' Tehran: City Of Love, which launched at the 2018 London Film Festival; Arrow Films' psychological thriller The Dead Centre; Element Pictures Distribution's pregnancy comedy A Bump Along The Way; and Film Volt Ltd's literary feature The Creatress.
Two new Indian titles will look to challenge the strong start of Bollywood drama War – The Sky Is Pink through Pack Your Bag Films, and Tara Mira through B4U Network.
Holdovers
Even a 50% drop for Joker would leave it comfortably above the £6m mark. Second-weekend drops for comic book adaptations this year have included 48% for Captain Marvel, 67% for Avengers: Endgame; 72% for X-Men: Dark Phoenix; and 69% for Spider-Man: Far From Home.
Further holdovers include Pathe's Judy; Universal's Downton Abbey; and STX's Hustlers, the latter two of which have already held top five spots for four successive weekends.