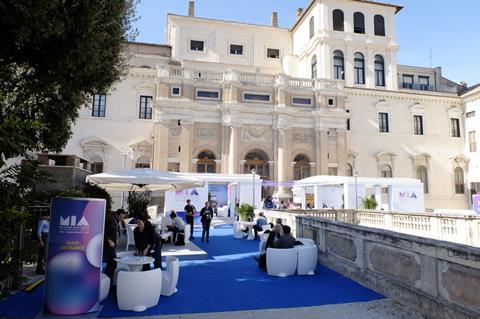 Rome's MIA film and TV market has unveiled the first wave of projects for this year's event, which will go-ahead as a mix of physical and digital elements from October 14-18.
The sixth edition of the Audiovisual International Market (MIA), which runs alongside the Rome Film Festival, will include 50 projects from more than 20 countries in its co-production market and pitching forum. The co-production market will comprise 16 projects, of which half are directed by women.
These include Amor y Dolor by Emanuele Scaringi, marking her second feature after youth comedy La Profezia Dell'Armadillo, which screened in the Horizons strand of the Venice Film Festival in 2018. Her new feature is produced by Domenico Procacci's Fandango.
Also set to be showcased is Animal, from Sofia Exarchou, whose debut Park won the New Directors Award at San Sebastian in 2016; and The Sorcerers by Christopher Murray, whose The Blind Christ played in competition at Venice in 2016. Murray's upcoming film will be produced by Fabula (Jackie, Neruda).
Laura Luchetti, whose Twin Flower screened at Toronto in 2018, will bring The Beautiful Summer, a coming-of-age story set in 1939 Turin; while Alex Rodrigo, director of Netflix crime drama Money Heist, has The Last Shot, which tells the story of adventurer Luis Valtueña.
Further titles include Audrey La Mer, the story of two men who survived Nazi atrocities, which is directed by Sebastiano Riso, who feature Darker Than Midnight screened at Cannes Critics' Week in 2014 and whose Una Famiglia played in competition at Venice in 2017.
Also presented will be The Rough Life Of The Heavenly Animals from Beatriz Seigner, whose Los Silencios was selected for Cannes Directors' Fortnight and San Sebastian in 2018; and Dalva from Emanuelle Nicot, about a young teenager pushed to dress like a woman by her father.
Alongside this international selection in the co-production market will be a new section dedicated to Italian film projects titles Wanna Taste It?.
The event, which will be held in its traditional location at Palazzo Barberini, "in a safe and Covid-proof environment", will be complemented by online platform MIA Digital, for international industry unable or unwilling to travel during the ongoing pandemic.
One project will win the Eurimages Co-Production Development Award of €20,000 while MIA will also award the ARTE Kino International Prize of €6,000, which will see European TV network ARTE support the development of a project chosen by a special jury.
MIA Drama
On the television front, MIA Drama host a keynote from producer Michael Ellenberg, who commissioned Westworld and Big Little Lies while head of drama at HBO before founding production company Media Res, where he has produced AppleTV+ series The Morning Show.
A second keynote will be delivered by Stephen Cornwell, co-founder and co-CEO of The Ink Factory, the London-based outfit whose credits include The Night Manager and The Little Drummer Girl.
The Drama Pitching Forum will comprise 15 projects from 11 countries including French series Lafayette, a costume drama set during the American Revolution, produced by Wild Horses and created by Nicolas Deprost and written by David Franzoni (Gladiator).
In addition, the Doc Pitching Forum will include 19 projects, one of which will win the Nat Geo Award.
Documentary features include Amate Sponde by Egidio Eronico, which journeys through Italy from the Alps to Sicily; La Grande Opera by Corrado Punzi, produced by Muud Film.
Launched in 2015 as a reboot of Rome Film Festival's Business Street market, MIA has grown into a major industry event on the international circuit, featuring a line-up that comprises mainly Italian and European projects. Last year, more than 200 international buyers from 43 countries attended, including representatives from A24, Beta Cinema, Le Pacte, Studiocanal and Wild Bunch.
The market is backed by Italy's motion picture association, Anica, and TV producers' organisation APA.