Full programme revealed for this year's East End Film Festival.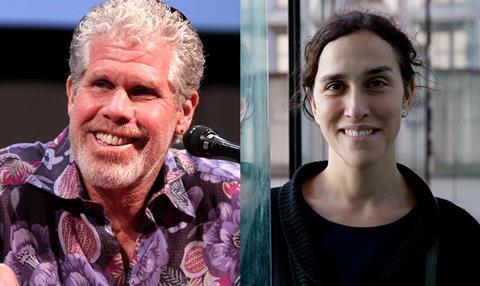 Hellboy star Ron Perlman and Suffragette director Sarah Gavron have joined the jury of the 15th East End Film Festival (June 23 – July 3).
It marks a return to the East End for US star Perlman, who attended EEFF in 2014 when Dermaphoria - in which he starred - opened the festival.
Ivy director Tolga Karaçelik, who won best feature at last year's festival, returns as the 2016 director in residence and jury chair alongside Perlman and Gavron.
Also awarding the Best Feature prize will be film writer and producer Kaleem Aftab and Bangladeshi film-maker Mostofa Sarwar (Television).
This year's country focus will be Turkey, with screenings including the UK premiere of Emin Alper's Turkey-France-Qatar co-pro Frenzy.
Opening film
The festival will open with the world premiere of Ian Bonhote's Alleycats, with a cast that includes Screen Stars of Tomorrow Eleanor Tomlinson (Poldark) and Sam Keeley (What Richard Did) alongside John Hannah (The Mummy), John Lynch (The Fall) and Rizzle Kicks singer Jordan Stephens.
The film charts the journey of a young woman whose brother is killed on the streets of London in a hit-and-run and who then must push herself to her mental and physical limits to find justice.
The festival will close with a screening of feature documentary Gary Numan: Android In La La Land, which is to receive its European premiere at Edinburgh International Film Festival next month.
Premieres
EEFF will host the world premieres of British films Love Is Thicker Than Water, from directors Emily Harris and Ate De Jong, and The Gates Of Vanity, by Suj Ahmend.
European premieres include Daniel Fitzsimmons' Native, and Savvas D. Michael's A Punter's Prayer, which stars Dexter Fletcher.
Other British film highlights include screenings of Rachel Tunnard's Adult Life Skills, and Tom Kingsley and Will Sharpe's The Darkest Universe.
On the international programme, Oliver Schmitz's Andrea Riseborough and Steve Coogan-starring Shepherds And Butchers will screen, as will Thomas Vinterbeg's The Commune and Robert Pattison-starring The Childhood Of A Leader from director Brady Corbet.
Documentaries at the festival include Rokhsareh Ghaemmaghami's Sonita, Sonia Kennebeck's National Bird and Ester Gould and Reijer Zwaan's Strike A Pose.