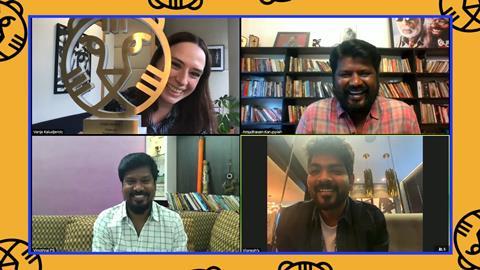 Vinothraj P.S.'s Pebbles has scooped the Tiger Award, worth €40,000, at the 50th International Film Festival Rotterdam (IFFR).
The Tiger jury, including Lemohang Jeremiah Mosese, Orwa Nyrabia, Hala Elkoussy, Helena van der Meulen and Ilse Hughan, said the Indian drama was "a lesson in pure cinema, captivating us with its beauty and humour, in spite of its grim subject".
Set in a rural village in southern India, Pebbles follows an alcoholic father and his young son as they embark on an eight-mile walk under scorching sun in a bid to reunite with his wife, who has fled his violence.
It marks the feature directorial debut of India's Vinothraj, who cast non-professionals in the Tamil-language film, produced by Chennai-based Rowdy Pictures.
Scroll down for full list of winners
The director accepted the trophy virtually alongside producer Vignesh Shivan during IFFR's closing awards ceremony.
Two special jury awards, each worth €10,000, were handed to I Comete – A Corsican Summer by French filmmaker Pascal Tagnati and coming-of-age drama Looking for Venera by Kosovo's Norika Sefa.
The VPRO Big Screen Award went to The Dog Who Wouldn't Be Quiet by Argentina's Ana Katz. As well winning a guaranteed theatrical release in Dutch cinemas, a €30,000 prize is awarded, shared equally between the filmmaker and distributor.
Quo Vadis, Aida? by Bosnian filmmaker Jasmila Žbanić won the audience award, worth €5,000. The film is Bosnia and Herzegovina's submission for the international feature film Oscar.
The Fipresci prize was awarded to The Edge of Daybreak by Thai filmmaker Taiki Sakpisit. The Youth Jury Award went to Night Of The Kings by Philippe Lacôte, which is the Ivory Coast's Oscar submission.
As previously announced, US director Kelly Reichardt was honoured with the second annual Robby Muller Award, named after the late Dutch cinematographer and granted to a filmmaker who has "created authentic, credible and emotionally striking visual language throughout their work". Her latest film, First Cow, played in the festival's Limelight section.
IFFR wraps today (February 7) after staging its first online-only edition, due to the pandemic, and the first under festival director Vanja Kaludjercic. A summertime celebration is scheduled to run as a physical event from June 2-6 that will contain IFFR's new programming strand Harbour as well as a special 50th anniversary programme.
Prior to this, IFFR will present 50 films from each year of the festival on its Unleashed on-demand platform, bridging the gap between the February and June events.
IFFR winners 2021
Tiger Competition award
Pebbles
Dir: Vinothraj P.S.
Tiger Competition special jury award:
I Comete – A Corsican Summer
Dir: Pascal Tagnati
Tiger Competition special jury award:
Looking For Venera
Dir: Norika Sefa
VPRO Big Screen award
The Dog Who Wouldn't Be Quiet
Dir: Ana Katz
BankGiro Loterij audience award
Quo Vadis, Aida?
Dir: Jasmila Žbanić
Fipresci award
The Edge Of Daybreak
Dir: Taiki Sakpisit
Youth Jury award
Night Of The Kings, Dir: Philippe Lacôte
Robby Muller award:
Kelly Reichardt
Ammodo Tiger short swards
Sunsets, Everyday
Dir: Basir Mahmood
Terranova
Dirs: Alejandro Pérez Serrano, Alejandro Alonso Estrella
Maat Means Land
Dir: Fox Maxy
KNF award:
Manifesto
Dor Ane Hjort Guttu