CineMart, the co-production market held during the International Film Festival Rotterdam (IFFR), has named the 16 feature projects to be showcased at next year's edition.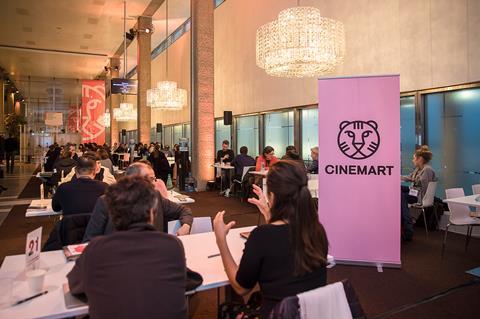 Held January 27-30 during the festival (which runs Jan 23 – Feb 3), the event invites filmmakers to pitch their projects to a host of attending film professionals in tailored one-to-one meetings, as well as presentations that are open to all CineMart guests.
This year's selection features one returning filmmaker, Nathalie Teirlinck, who previously presented her project Past Imperfect at CineMart in 2015 – that film went on to play festivals in 2016.
Notable directors in the selection this year include Muayad Alayan, whose The Reports On Sarah And Saleem premiered at IFFR 2018 and received a special mention from the festival's Tiger competition, and Yeo Siew Hua, whose A Land Imagined will screen at IFFR 2019 following its premiere at Locarno 2018. Both films were supported by Rotterdam's Hubert Bals Fund.
Also presenting a project this year is the UK's Jim Loach - son of Ken Loach - while there are further projects from Israeli outfit Plan B Productions (Tikkun), Belgium's Savage Film (Racer And The Jailbird), and Revolver Amsterdam (Love & Friendship).
Last year, the format of CineMart was revamped in an effort to make the event more streamlined and convenient for attendees. Part of that endeavour was reducing the project selection to 16 projects, and for 2019 the team have stuck with that amount.
As in 2018, next year's crop of selected project teams will be paired with a personal mentor, who will help them to prepare for the event one month in advance.
There are four awards on offer to CIneMart titles: the Eurimages Co-Production Development Award of €20,000 for a European co-production; the ARTE Kino International Prize of €6,000 for an international co-production; the Wouter Barendrecht Award of €5,000 for a project by a director under 35 years of age; and the Filmmore Postproduction Award of €7,500 to be used for colour grading and visual effects.
Full list of the 2019 CineMart selection:
And My Eyes Keep Smiling, André Novais Oliveira, Filmes de Plástico (Brazil)
Blutsauger, Julian Radlmaier, faktura film UG (Germany)
Crossing, Jacqueline van Vugt, Revolver Amsterdam (the Netherlands)
Elephants, Nathalie Teirlinck, Savage Film (Belgium)
La Fiebre, Mateo Bendesky, Volpe Films (Argentina)
The Flying Mountain, Nicolas Steiner, maximage (Switzerland)
The Girlfriend, Jane Magnusson, Brain Academy (Sweden)
Hank, David Jacobson, Picture Palace Pictures (US)
A House In Jerusalem, Muayad Alayan, PalCine Productions (Palestine)
Lot's Wife, Avishai Sivan, Plan B Productions (Israel)
The Panopticon, Jim Loach, Rosetta Productions (UK)
Peaches, Jenny Suen, Salty Pictures/White Sea Pictures/Nanyang Brothers Films/Rapid Eye Movies (China/Hong Kong/Malaysia/Germany)
The Perilous Odyssey To Mount Gulsuk, Jordan dela Cruz, VY/AC Productions & Cinematografica Films (Philippines)
Stillborn, Olga Chajdas, Apple Film Production (Poland)
Stranger Eyes, Yeo Siew Hua, Akanga Film Asia (Singapore)
Titanic Ocean, Konstantina Kotzamani, Homemade Films (Greece)