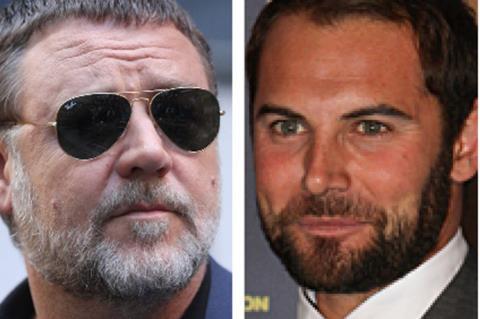 Russell Crowe and Daniel MacPherson will star in hot EFM package The Beast In Me, an MMA action drama from Broken Open Pictures, Storm Alley Entertainment, Armagh and Eclectik Vision.
Lisa Wilson's The Solution Entertainment Group is commencing talks with buyers in Berlin this week on the project, which is scheduled to start principal photography in late April/early May.
MacPherson (Foundation, Infini, The Osiris Child) will play an out-of-work former fighter who suffers a personal tragedy. With the help of a veteran trainer (Crowe, Unhinged, Gladiator) he sets out to avenge the past by fighting a Mixed Martial Arts bout against a highly dangerous opponent.
Tyler Atkins (Bosch & Rockit, Ocean Boy) will direct from a script by David Frigerio, who reunites with Crowe and MacPherson after he wrote and produced the upcoming action thriller Land Of Bad. His screenplay credits include The Signal.
The producing team on The Beast In Me features Broken Open Pictures' Frigerio, Storm Alley Entertainment's Shane Abbess, Armagh's Tim O'Hair, and Eclectik Vision's Brett Thornquest.
Executive producers are Sidonie Abbene, MacPherson, Kyle Smithson, Ruthanne Frigerio, Myles Nestel and Wilson.
Crowe is currently in production on the thriller Sleeping Dogs and will next be seen in Screen Gems horror thriller The Pope's Exorcist, J.C. Chandor's Sony/Marvel adaptation Kraven The Hunter, and Land Of Bad.
Frigerio said, "Super excited about this project as it will be my second collaboration with Russell and Daniel. Beast is a powerful story about redemption, love, forgiveness, and family."
"I see this as a tribute to the fighters I admire so much and the enormous amounts of physical and emotional pain they've endured," said Atkins.
"A real focus here is to make something with the explosive energy and high production values that the story demands," added Abbess. "We all came together with the core focus of exploring combat both inside and out of the octagon and most importantly, the characters."
Casting talks are ongoing with prominent names in the world of UFC.
Crowe is repped by Brillstein Entertainment Partners and Goodman, Genow, Schenkman, Smelkinson & Christopher, LLP. MacPherson is represented by Buchwald, Entertainment 360 and Aran Michael Management.