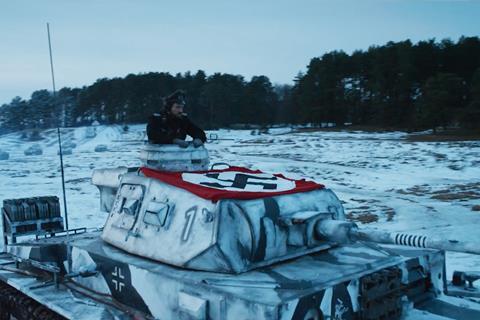 Russian Second World War tank movie T-34 has become the most successful local film of all time to open at the Russian box office.
The film, released by Central Partnership, grossed $10.6m (713m roubles) over the four-day weekend from from January 3-6, a sizeable increase on the previous record set by Oleg Stepchenko's fantasy film, Viy which grossed $9m ( 602m roubles) on its opening weekend in 2014.
With T-34 driving growth early 2019 growth, media measurement specialist Comscore confirmed the lucrative holiday season in Russia that ran from Janaury 1-8 is up on 11% on the same period last year.
"We expect 2019 to be a very successful year for the industry with huge number of blockbusters to be released and an overall strong slate," said Roman Isaev, general manager, Russia CIS, Comscore.
Central Partnership first released T-34 wide on 2,300 screens in Russia on New Year's Day, following previews in 51 IMAX screens from December 27th. The film had grossed $19.5m (1.3bn roubles) as of January 8.
"It was a risky decision to release a World War 2 action drama on New Year's Day," said producer Ruben Dishdishyan of Mars Media. "Traditionally this date is 'reserved' for local holiday comedies. However, we had faith in the film's positive world of mouth, spectacular and entertaining shooting of action scenes, and the life affirming message with heart that it conveys to the audiences."
Competition came from two Russian holiday comedies - Yolki and Policemen from Rublyovka, and from family dramas, Tri Bogatirya and Snow Queen. It was also up against Hollywood holdovers The Grinch, Aquaman and Bumblebee as well as Mary Poppins Returns (which did only modest business) but still finished at the top of the box office charts. The question now is how long it will remain on screens and whether it will be able to emulate last year's biggest local hit, basketball drama, which made $42.8mn at the Russian box office.
Russia overtook France as the biggest European box office market by admissions with 212.2 million tickets sold in 2017. The growth in the sector looks set to continue during 2019. Early January is always one of the most lucrative periods for cinemagoing but several strong local titles are set to be released later in the year. These include Fyodor Bondarchuk's sci-fi drama Attraction 2 (Sony) and Salvation Union/Soyuz Spacenia, about the 'Decembrists' revolution in Russia in the 19th century (Fox). US studio films are also expected to do very brisk business.
T-34 is a co-production between Mars Media, Russia 1, AMedia and Trite. The film is directed by Alexey Sidorov and stars Alexander Petrov, Vincenz Kiefer, Victor Dobronravov, and Irina Starshenbaum. It has sold well internationally and is already licensed to over 30 territories. Mars Media is screening the film at Berlin's EFM next month.