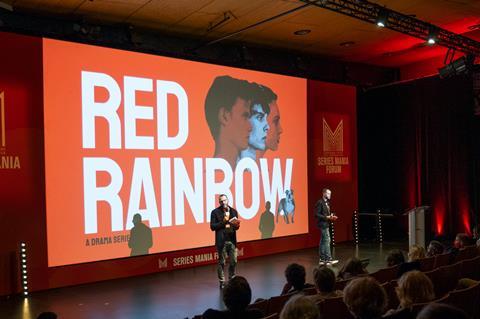 Russian producer Alexander Rodnyansky and UK writer Matt Jones clinched the main €50,000 ($59,147) project prize at French TV festival and industry event Series Mania on Monday (August 30) for LGBTQIA+ period drama Red Rainbow.
It was among 15 drama projects pitched at Series Mania's Co-Pro Pitching Sessions, a key strand of the event's industry-focused Forum programme, taking place within the framework of the TV festival unfolding in Lille from August 26 to September 2.
Inspired by true events in the late 1970s, the eight-part drama revolves around three gay activists from West Berlin who following a series of misunderstandings are invited to Moscow by Soviet officials, even though homosexuality is a crime there at the time.
The activists for their part are under the illusion that the Communist regime has championed gay rights and culture. The series follows their eventful trip as they connect with the local gay community against the odds, with one of them even falling in love
Prolific Russian producer Rodnyansky, who produces under the banner of AR Content and Non-Stop Production, described the project as Russia's "first LGBTQIA+ drama".
"It was the strong story and LGBTQIA+ elements of Red Rainbow that helped us to reach a unanimous decision… This is a narrative that is still very relevant today and a story that definitely needs to be told," said jury president Polly Williams, the former London-based eOne drama executive who has just launched Federation UK
The other jury members comprised Daniel Campos Pavoncelli, head of film and TV at Milan-based Indiana Production; Sened Dhab, VP digital scripted at France Télévisions; Mar Diaz, fiction executive fiction producer at Spanish broadcaster RTV, and US-Israeli producer Maria Feldman.
Other highlights of Monday's pitching sessions included female-driven, heist drama Crude, set against the Aberdeen old industry, which was presented by UK producer Angela Gourley at Amber Eye Films and writer Oliver Maltman. It sees a feisty female vicar, oil baron's unhappy trophy wife and a petrochemical engineer-turned sex worker come together in a high-risk operation to steal millions of dollars worth of oil.
Other buzzy presentations included Israeli filmmaker Eytan Fox's intriguing new project Rabbi, a dramatised exploration of the events surrounding the downfall of prominent real-life Israeli religious Zionist rabbi Mordechai Elon who was accused of sexual misconduct against male minors in his community.
More than a hundred projects have been presented at Series Mania's Co-Pro Pitching Sessions since their creation in 2013. They include Mediapro and Hulu's South Pole adventure The Head, Sky Atlantic's financial thriller Devils as well as Series Mania 2021 festival selections Blackport, Jerusalem and The Last Socialist Artefact.
Alongside the pitching sessions, Monday's schedule also featured a packed conference programme.
Highlights included a panel on the relationship between the big audiovisual groups and independent producers, featuring contributions from Mediawan Studio president Thomas Anargyros, Freemantle president of global drama Christian Vesper and Danish producer Piv Bernth at Apple Tree Productions, as well as presentations by Netflix and rising Paris-based pan-European audiovisual group Newen.
The professional events continue on Tuesday (August 31) with the Lille Dialogues aimed at fostering conversations between the European and US audiovisual professionals with speakers including Viaplay president Anders Jensen, Disney EMEA president Jan Koeppen and Priya Dogra, president Warnermedia EMEA and Asia.