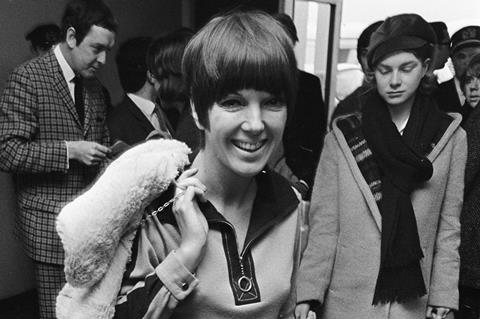 UK actress and fashion designer Sadie Frost is to make her directorial debut with an adventurous new feature documentary about Mary Quant, "the queen of the mini-skirt".
One of the UK's most renowned cultural figures, Quant was at the vanguard of the stylistic revolution of the 1960s and '70s, leading the charge away from convention and conservatism through the championing of ground-breaking designs including the miniskirt and hot pants. Quant's designs and irreverent style were credited as critical to the development of the 'swinging sixties'.
Here at AFM, Kaleidoscope Film Distribution is handling worldwide sales for Quant, which is currently in pre-production. The film will use archive footage and original interviews with Quant's contemporaries, family and modern-day fashion and style leaders, as well as dramatised scenes.
Frost, who has starred in films including Bram Stoker's Dracula and Love, Honour And Obey and whose production company Blonde To Black Pictures' credits include Two For Joy and Set The Thames On Fire, is a long-term admirer of the fashion designer. "I'm so excited to tell the story of Mary's life and enable her legacy to live on," Frost commented.
Kaleidoscope CEO Spencer Pollard is executive producer, along with Goldfinch's Kirsty Bell and Phil McKenzie. Bell and McKenzie are also producers.
"We are very happy to be working with Sadie Frost and the team at Goldfinch to be bringing this story of one of the world's greatest fashion icons and visionaries to the international marketplace during AFM this week," Pollard said.
"Sadie is the perfect director to tell Mary's story, and we are pleased to be building on a great relationship with Spencer and his team to sell and release the film," Bell added.