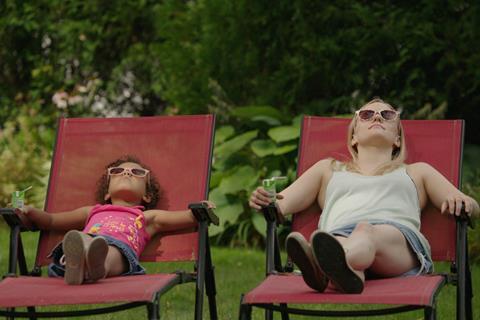 SXSW award-winner Saint Frances is shifting from a digital-only release in the UK to a full theatrical run as cinemas prepare to reopen after months of lockdown.
Vertigo Releasing had planned to release the comedy drama direct to digital platforms on July 10, after acquiring the feature from Visit Films around the time all cinemas were closed in mid-March in the wake of the Covid-19 outbreak.
But with cinemas set to reopen in England from July 4 and social distancing expected to come down to one-metre (making it more financially viable for smaller cinema chains to get back to business), the UK distributor is now planning a full theatrical window from July 10.
Vertigo CEO Rupert Preston said the move back to theatrical was inspired by the box-office success of indie features in New Zealand, where cinemas have reopened but major studio features have yet to be released.
"We've had some great success in New Zealand, where we have a partnership with Rialto Distribution, releasing films into cinemas before the floodgates of studio product open this autumn," said Preston and citing titles including Harvey Weinstein-inspired drama The Assistant and Resistance, starring Jesse Eisenberg as mime artist Marcel Marceau.
"It's an opportunity for us to release quality, indie movies into cinemas and increase the profiles of these films."
The number of UK screens on which Saint Frances will play is yet to be confirmed but Preston said he was looking to go "as wide as possible".
Marking the feature directorial debut of Alex Thompson and starring Kelly O'Sullivan, who also wrote the script, Saint Frances centres on a waitress who rethinks her life after being charged with the care of a six-year-old girl, played by Ramona Edith Williams.
The film had opened theatrically in the US on February 28 but was forced to end its run after just two weeks due to the virus crisis. It was subsequently released there via Oscilloscope Laboratories' virtual cinema initiative, playing on more than 120 virtual screens.
Vertigo pivoted other releases to digital platforms during lockdown. It gave The Assistant an early digital release in the UK on May 1 after being forced to scrap plans to release it theatrically on April 3 and gave streaming platform Curzon Home Cinema its biggest weekend of revenue to date.
Vertigo also secured rights to period genre drama Fanny Lye Deliver'd and will maintain its digital release date of June 26.