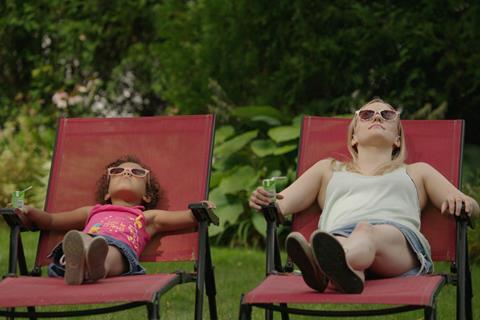 Vertigo Releasing has secured UK and Ireland rights to comedy drama Saint Frances from New York-based Visit Films and has set a digital release for July 10.
The film won both the audience award and special jury award when it debuted at SXSW last year and marks the feature directorial debut of Alex Thompson.
Starring Kelly O'Sullivan, who also wrote the script, it centres on a waitress who rethinks her life after being charged with the care of a six-year-old girl, played by Ramona Edith Williams.
The film will be released direct to digital platforms as a result of the Covid-19 pandemic, which has seen cinemas closed around the UK and around the world.
The virus crisis also saw Saint Frances released via Oscilloscope Laboratories' virtual cinema initiative in the US. The film had previously opened theatrically in the US on February 28 but was forced to end its run after just two weeks due to cinema closures.
It went on to play on as many as 126 virtual screens, in which Oscilloscope split net revenue with participating theatres, who typically set a $12 price point for online ticket sales.
Visit Films president Ryan Kampe said of the UK deal: "Following the amazing success in the US with Oscilloscope, we are really glad to see the film find audiences abroad with innovative partners such as Vertigo."
In a joint statement, Saint Frances director Thompson and actress-writer O'Sullivan said of the UK release: "We hope it brings even a modicum of brightness to what is certainly an unprecedented time of strife and division."
Vertigo has previously pivoted other releases to digital platforms in the wake of the outbreak. It gave Harvey Weinstein-inspired drama The Assistant an early digital release in the UK on May 1 after being forced to scrap plans to release it theatrically on April 3, which gave Curzon Home Cinema its biggest weekend to date.
Vertigo also previously secured rights to period genre drama Fanny Lye Deliver'd and has set a digital release for June 26.