CineLink, the industry side of the Sarajevo Film Festival, has crowned its winners for the 2018 edition.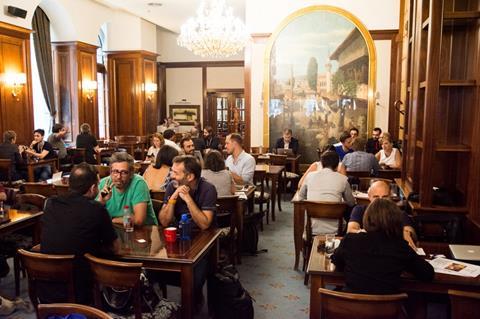 In the co-production market, the Eurimages Coproduction Development Award of €20,000 went to Juraj Lerotić's Safe Place. The Croatia-Slovenia drama from Propeler Film and Staragara takes place in 24 hours and focuses on a family trying to save one of its members from themselves.
The Film Centre Montenegro Cinelink Award of €10,000 went to Gentian Koçi's A Cup Of Coffee And New Shoes On, which is from Albania-Greece and focuses on two identical twins in their 40s who discover that, due to a genetic disease, they will both go blind. Koci previously directed Daybreak, which premiered at Sarajevo last year.
Elswhere in the co-pro market, Pjer Žalica's May Labour Day won the Arte International Relations Cinelink Award of €6,000 and Tibor Keser was the recipient of the Eave Scholarship for his project Fiume O Morte!
The Work In Progress prizes saw Andrei Gruzsniczki's projet Zavera take the TRT Award, worth €25,000. The Romanian film follows a 50-year-old businessman who investigates the suspicious death of his best friend.
The CineLink Iridium Award, worth €20,000 (in kind), went to Lina Alabed for her film Ibrahim, which is a Lebanon-Palestine-Qatar-Denmark co-pro and is a documentary about the director's father, who disappeared in 1987.
The Post Republic Award, worth €50,000 (in kind), went to Oren Gerner's Africa, about a retired man who goes on a silent journey to reclaim his shaken manhood.
Finally, the CineLink Drama Award, which comes with €10,000 granted by the Film Centre Serbia, went to the series project Greater Than Death, from creators Arya Su Altıoklar and Samim Türkmen and directors Erhan Yürük and Boran Güney. The show from Turkey will tell the story of a desperate detective who heads the homicide department of an island where no murders have occurred for 39 years.
Separately, the festival has also unveiled its 2018 partner awards, which are listed below:
Best Pack & Pitch Award (Talents Sarajevo Pack & Pitch):
'The Land Within Me by Fisnik Maxhuni (Invitation to participate in the CineLink Industry Days)
Remember by Athanasios Psichogios (Post-production services in the amount of 4.000 sponsored by studio Chelia)
Midpoint Award
Milan Stojanovic (Turbo) / Serbia, Germany
Art Department Masterclass Award
Transit / Belgium
HBO Europe Award
Sleepover / Greece
Best B&H Student Film Award
ŽIRI: Nedžad Begović, reditelj, Lejla Graho, kostimografkinja, Aleta Rajič, animatorica
Best BH Student film
Precious
Režija: Irfan Avdić, Akademija scenskih umjetnosti Sarajevo
Special Jury award
The Confidence Man
Režija: Kouros Alaghband, Sarajevo Film Academy
Jury Mention
A Self-Reflection In Three Episodes
Režija: Sara Ristić , Akademija scenskih umjetnosti Sarajevo
Cineuropa Nagrada
Love 1. Dog (director: Florin Șerban)
Cicae Nagrada
Love 1. Dog (director: Florin Șerban)
Efa Nagrada
I Signed The Petition (director: Mahdi Fleifel)
Awards Of Association Of Bosnian Filmmakers
2017. Ivica Matić Award
Men Don't Cry
Directed by: Alen Drljević
Produced by: Damir Ibrahimović
The Award For Overall Contribution To Bosnian And Herzegovinian Film (For Artists And Associates)
Dragan Ressner and Nidžara Mehić