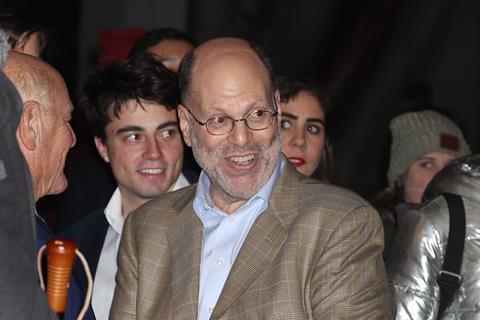 New York-based producer Scott Rudin has said he is stepping back from his film and streaming projects in addition to his Broadway work following allegations of workplace abuse and his credits have been removed from five upcoming A24 projects.

Rudin, who shared the 2008 best picture Oscar for No Country For Old Men with Joel and Ethan Coen and has been nominated on nine other occasions, was the subject of a recent profile in The Hollywood Reporter in which former employees alleged explosive tantrums and bullying of staff.
In a statement released to Screen, Rudin said: "I am stepping back from my film and streaming projects in addition to my work on Broadway. I am doing so to take the time to work on personal issues I should have long ago.
"When I commented over the weekend, I was focused on Broadway reopening successfully and not wanting my previous behavior to detract from everyone's efforts to return. It's clear to me I should take the same path in film and streaming. I am profoundly sorry for the pain my behavior has caused and I take this step with a commitment to grow and change."
It remained unclear what "stepping back" entails and sources were unable to provide more detail at time of writing.
Rudein is no longer associated and is not listed as producer on five upcoming projects at A24, with whom he produced Uncut Gems and Lady Bird.
The A24 projects were Joel Coen's The Tragedy Of Macbeth, Steven Karam's family drama The Humans, Alex Garland's horror-drama Men, Lila Neugebauer's Jennifer Lawrence war drama Red, White, And Water, and sci-fi Everything Everywhere All At Once directed by Dan Kwan and Daniel Scheinert.
His upcoming film projects include an executive producer credit on Searchlight Pictures' The French Dispatch – the studio had not commented to Screen on his status on the Wes Anderson film at time of writing.