A panel of experts will provide insight into sourcing finance, while attendees will be able to have private meetings with influential funders.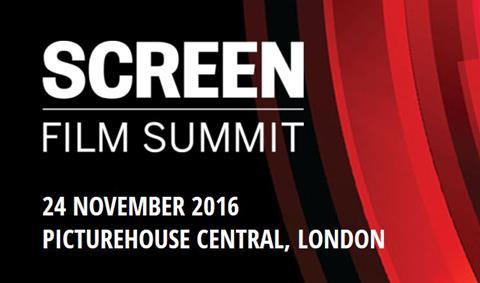 This year's Screen Film Summit at Picturehouse Central on November 24 will provide attendees with the opportunity to learn about the intricacies of accessing investment and private funding for film projects.
Five leading financial experts will take part in a morning panel that will provide critical information to producers looking to finance their independent film projects.
The speakers are: Peter La Terriere, managing director at European Film Bonds, Paul Brett, director at Prescience Film, Gary Collins, CEO at Red Rock Entertainment, Tim O'Shea, senior investment director at Ingenious, and Phil Hunt, co-managing director at Bankside Films and Head Gear Films.
For the first time this year, ticket-holders will also have the opportunity to sign up to one-to-one meetings with some of the UK's most influential private and public financiers, including Film4, Creative England, iFeatures, Film London, Red Rock Entertainment, Catalyst Global Media, Prescience, European Film Bonds, Ingenious, and Creative Europe Desk UK.
A total of 80 meeting slots are available on a first-come first-served basis and will run throughout the day of the conference.
More panels
As previously announced, The Night Manager director Susanne Bier will deliver this year's conference keynote address, followed by an on-stage conversation with Screen editor Matt Mueller.
Elsewhere, the Games Changers panel will feature representatives from award-winning film companies who are breaking down the barriers of film production, sales, distribution, and exhibition.
The speakers will be Eduardo Panizzo of marketing agency Coffee & Cigarettes, Ian Cartwright and David Kapur, directors and co-founders of ourscreen and elevenfiftyfive, and Lucas Ochoa, managing director of film for Pulse Films. The session will be chaired by Screen's deputy editor Andreas Wiseman.
Further events include an in-conversation session with BAFTA-winning producer Andy Harries on the crossover between film and high-end TV, a panel focusing on some of the UK's most exciting emerging producers, including Tristan Goligher of The Bureau, and Faye Ward of Fable Pictures.
Representatives from 20th Century Fox, Soda Pictures, and Curzon Artificial Eye will discuss marketing some of 2016's standout film hits, while ComScore's Lucy Jones and David Hancock of IHS Technology will provide insights into the current habits of UK film audiences.