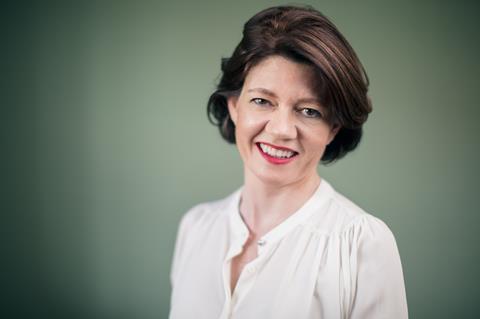 Isabel Davis, executive director of Screen Scotland, has called for the UK to re-join Eurimages, the Council of Europe's cultural support fund as the UK prepares to leave the European Union.
"Rejoining Eurimages would certainly benefit Scotland," Davis suggested. "While the UK is enjoying a production boom 95% driven by US finance, those more national scale economies such as Northern Ireland, Scotland and Wales attract a very different scale of production.
"That's to do with our facilities, the level of crew, the local creative talent. We might rather disproportionately benefit from a more propitious environment for European and international co-productions."
Davis was speaking on the eve of the UK's official withdrawal from the EU at the International Film Festival Rotterdam (IFFR) this week where several emerging Scotland-based writersand directors have been attending Rotterdam's CineMart.
They are in town for the Bellrock programme run by Olivia Stewart's Three Rivers Film, which works with filmmakers and writers to develop original screenplays. The final part of the programme is hosted byCineMart.
The filmmakers taking part are: John Barrington, whose script Silent Roar is about two high school leavers on the Isle of Lewis; Scotland-based Portuguese writer-director Laura Carreira, who is working a project called Downtrodden, about a Portuguese migrant worker in a Scottish warehouse; Alicja Jankowska, who has a script called Whoa Nelly!, about "post-graduation purgatory"; Edinburgh-based Palestinian writer-director Razan Madhoon, who is developing The Good Spirit, inspired by her childhood experiences in the Gaza Strip; writer Jim McRoberts, who is working on The Cold Spell After Sheep Shearing; and writer Silas Parry, who has a script called This is Home, which begins in a heroin-sodden Scottish council estate, and ends with the discovery of alien life deep off the coast of Spain.
"What's interesting to me about the writers we have [at IFFR] is that they're all Scottish based but they have all sorts of cultural ties to other countries," said Davis. "That is quite reflective of Scotland today. [Scotland] has made a real virtue of openness to incomers and it is lovely to see that reflected in the talent we have here."
In her previous role of head of international at the British Film Institute Davis oversaw the minority co-production fund which supported films such as Dutch director Sacha Polak's Dirty God (which opened IFFR in 2019), Yorgos Lanthimos's Lobster (which Davis first came across at project-stage in Cinemart). Claire Denis' High Life and Pawel Pawlikowski's Polish-language award-winner Cold War.
"I felt the first step had to be to have a more dedicated amount of money within the UK simply because, structurally speaking, it is all very well joining Eurimages but you need to be bringing match funding to the table in order to take advantage of it," she explained.
Welcome to Scotland
Signalling Scotland's determination to maintain good relations with European film partners post-Brexit, Screen Scotland is hosting the ACE Annual Reunion this year, the first time it will be held in the UK. Between 80 and 90 independent European producers are expected to attend the reunion at the beginning of April which marks the end of ACE's year-long training programme for 18 producers.
"That is about our commitment to strengthen our ties with Europe and to show Europe that we are very much committed to working with them regardless of what happens with Brexit and regardless of our lack of membership of Eurimages at this time," Davis emphasised.
One of Screen Scotland's priorities for 2020 is to ensure those living and working outside the Glasgow and Edinburgh 'central belt' have access to funding and opportunity. The agency has been supporting events such as XpoNorth in Inverness and backing production companies including Inverness-based Happy Tramp North, which produced the crime drama series Guilt for the BBC.
Davis is heading to Los Angeles next week to meet the US studios and streaming platforms and "to tell them where Scotland is at.
"We know that the holy grail for sustainability in Scotland is going to be those large-scale return series, not necessarily scripted - we are also in the market for unscripted too," Davis explained.
Alongside Starz' long-running Outlander series which has been shooting for several years in Ward Park in Cumbernauld, reportedly doubling the crew base in the country, recent film and high-end TV dramas to have shot in Scotland include Sam Mendes' 1917, Kudos' Deadwater Fell. Synchronicity Films' The Cry and Fast & Furious 9.
The operator for the long-awaited new Scottish studio at the old Pelamis building in Port of Leith will be announced shortly. "We are nearly there," Davis said.
Screen Scotland itself is expanding and Davis is in the process of recruiting a head of audience development and a head of business and market development
"We need to bring in more specialism and expertise to help us achieve our goals in those two priority areas," Davis said. "Growing an industry is not an overnight task. It has many moving parts to it."