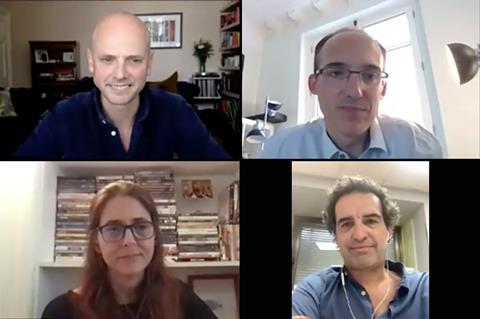 The dangers of relying on US studio fare to support the international cinema business has been brought into sharp focus by the virus crisis, according to independent European distributors.
During the latest ScreenDaily Talk, distribution experts from the UK, France, Spain and Italy highlighted how delayed studio blockbusters including Warner Bros' Tenet, Disney's Mulan, and now Star Wars, Avatar and Paramount's Top Gun: Maverick have amplified the importance of producing strong independent films.
Watch the full session below
Enrique Gonzalez Kuhn, CEO of Spanish distributor Caramel Films, said: "Spain is a country that depends too much on US studio films – about 80% of the box office. The major chains have been open since July 1, all expecting big films from the studios… But they changed dates every week so the cinemas are open but they don't have any movies to show… The lesson to take from this pandemic is that we have to work more on production from our own industry."
He pointed to a success story in France, which opened 90% of its cinemas on June 22 and achieved strong takings with re-releases of local features How To Be A Good Wife, starring Juliette Binoche, and biopic De Gaulle.
The biggest new release that weekend was Agnieszka Holland's Mr. Jones, handled by Paris-based Condor Distribution. Condor CEO Alexis Mas recounted how his company was on the verge of theatrically releasing the historic drama when French cinemas were ordered to shut down on March 14.
Having spent more than €400,000 on P&A, Mas recalled that missing the release date was "a shock for the team and we thought the company was over". But after declining "low" offers from streaming platforms, Condor bet on opening Mr. Jones on the first day of reopening and the film has since recorded more than 200,000 admissions in over 1,000 cinemas – takings of around €1.8m.
"The level of traffic [in French cinemas] is now one million viewers per week," said Mas. "Summer is meant to be three million so you could say it's bad, but we have managed to gather one million people in theatres with no Hollywood offers – only French comedy, drama and arthouse. There was a unified movement to get people back into theatres."
Hamish Moseley, managing director of Altitude Media Group for the UK and Ireland, echoed these comments and said: "It is not good for anyone to be reliant solely on studio tentpoles so if we can get audiences to come to a bigger variety of films, that would be great… An ecosystem that is reliant on just a few very similar Hollywood tentpoles is not healthy and hasn't been healthy for many years so it would be great if that changed."
Altitude released one of the first new features in UK theatres, genre title Black Water Abyss, after cinemas were cleared to reopen in England on July 4, and is releasing both Stage Mother starring Jacki Weaver this weekend (July 24) and Russell Crowe's psychological thriller Unhinged on July 31.
"Exhibitors and distributors, we need to go into this together, hold hands and be confident," said Moseley. "It's going to be extremely challenging and the numbers aren't going to be there but we have to be positive… and showmanlike because it's entertainment and we're trying to get people back into cinemas."
Margherita Chiti, a partner and general manager at leading Italian arthouse distributor Teodora Film Distribution, also spotlighted the need for strong features to get audiences back into cinemas, which began reopening in Italy on June 15.
"The cinemas that have reopened didn't really get any new product because the only films that were released had already been on [digital] platforms for a month, such as Les Miserables," she said. "So there haven't been any new films that could work as a driving force to bring audiences to the theatre. I think Tenet would have been a strong driving force for reopening so I hope it will happen at the end of August."
Gonzalez Kuhn said he believed that the highly-anticipated Christopher Nolan film is set to open in Spain, the rest of Europe and Asia on August 27, ahead of the US.
Future festival plans
With the Covid-19 pandemic still ongoing and the emergence of second spikes, all the panellists remained cautious about imminent travel to upcoming film festivals or markets.
Chiti said she would likely attend the Venice Film Festival at the beginning of September, as she has committed to panel events, but "if not for this, I probably wouldn't attend".
"The small market taking place in Venice will be online as well as Toronto's so I don't really feel the need to travel, to be honest," added Chiti. "I love Venice but I still have no idea as to how it will take place, the capacity of theatres, how many theatres – so I don't know."
However, Gonzalez Kuhn said the upcoming San Sebastian International Film Festival would be "very important" and he will attend with Viggo Mortensen. The Danish-American actor/filmmaker is due to receive the honorary Donostia Award and present his directorial debut Falling, which Caramel is releasing in Spain.
"I hope many people from Europe will come," he said. "For us, it will be like a reopening for the independent sector."
But both Chiti and Gonzalez Kuhn predicted it would be the Berlinale in February that would mark the next major gathering of the international film community.
Moseley added: "While we are encouraging people to go back to the cinema in our territory and I want to go back to the cinema physically as soon as possible… I do not think I would encourage international travel for my team at the moment because it feels unnecessary, as much as we want to support these festivals."
The next ScreenDaily Talk will be announced soon.