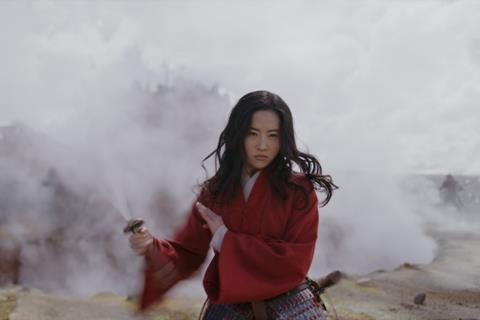 Disney has removed Mulan and Searchlight Pictures' The French Dispatch from the US release schedule as the by now inevitable game of distribution dominoes plays out after Warner Bros put the launch of Tenet on hold amid surging Covid-19 cases in the US.
The live-action adventure had been set to open on August 21 and has been unset – for now. Wes Anderson's awards season contender The French Dispatch has been unset after it was scheduled to open on October 16.
A Walt Disney spokeperson said, "Over the last few months, it's become clear that nothing can be set in stone when it comes to how we release films during this global health crisis, and today that means pausing our release plans for 'Mulan' as we assess how we can most effectively bring this film to audiences around the world."
Ridley Scott's The Last Duel is not out of contention for the upcoming awards season. The 20th Century Studios action film still required shooting days and has moved from December 25 2020 (limited) and January 8 2021 (wide) to October 15 2021. Scott Cooper's Antlers from Searchlight Pictures has moved to February 19, 2021.
The date changes come after Warner Bros postponed the August 12 US release of Tenet on Tuesday.
On Thursday Solstice Studios removed Unhinged from its July 31 berth and said the Russell Crowe psychological thriller will open in the US two weeks before the first release of a major new Hollywood film. On Thursday evening Sony Pictures moved Marvel Sony Untitled Spider-Man: Far From Home Sequel from November 5, 2021 to December 17, 2021.
Exhibitors are similarly expected to follow suit and indeed on Thursday AMC, the world's largest cinema chain, said it was pushing back the reopening date from July 30 to mid to late August.
Disney announced a raft of schedule changes that sees the next Avatar and Star Wars films all pushed back by one year. 20th Century Studios' Avatar 2 moves from December 17 2021 to December 16 2022; Avatar 3 from December 22 2023 to December 20 2024; Avatar 4 from December 19 2025 to December 18 2026; and Avatar 5 from December 17 2027 to December 22 2028.
Disney's Untitled Star Wars now occupy some of those former Avatar slots: they move from December 16 2022 to December 22 2023, from December 20 2024 to December 19 2025, and from December 18 2026 to December 17 2027.
20th Century Studios' The Empty Man moves from August 7 to December 4 this year; Searchlight's The Personal History Of David Copperfield is pushed back by two weeks to August 28; and 20th Century Studio's Death On The Nile moves from October 9 to October 23 this year.
Two Untitled 20th Century films set for October 1 2021 and October 22 2021 are removed from the schedule, and Untitled Disney Live Action moves from November 19 2021 to December 17, 2021.