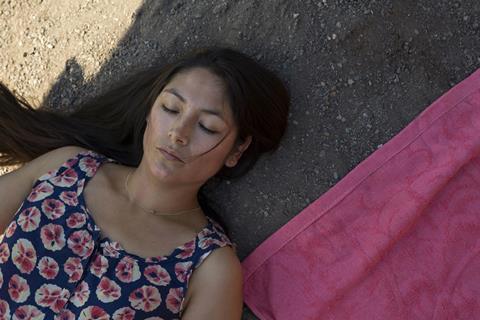 The New Works-in-Progress (WIP) forum at the Seattle International Film Festival has announced its 2019 film teams and industry mentor line-up.
Four feature films – two documentaries and two narratives – have been invited from across the world to participate in the interactive event.
"The mission of the New Works-in-Progress Forum is to bring together the three vital parts of the cinema experience at a critical junction before the film has locked picture: filmmaker (as artist), industry (as conduit), and audience," said WIP curator Kathleen McInnis. "We create a safe intersection near the end of the creative journey and just at the beginning of the road-to-audience for filmmakers to discover how their films engage on the global stage."
The projects selected for the 2019 New Works-in-Progress Forum in Documentary are:
Hope's Journey (USA-Mexico)
Dir: Yolanda Cruz
Hope arrives in Oaxaca angry, out of place and afraid. Others have come in celebration, making the annual pilgrimage to La Virgen de Juquila, the region's patron saint, but it isn't until Hope befriends Soledad that a sense of origin begins to emerge.
A Loss Of Something Ever Felt (Estonia-Colombia)
Dire: Carlos E. Lesmes
At the request of her mother Hille, Eeva arrives from Estonia to Bogotá, Colombia to look for her drug addict and alcoholic half brother Lauri. In her quest to find Lauri, Eeva manages to rediscover and reconnect with the fragile love she and her brother once shared.
The projects in the 2019 New Works-in Progress Forum in Narrative are:
Lina From Lima (Chile-Argentina-Peru, pictured)
Dir: Maria Paz González
It's Christmas time. Ten years have passed since Lina (40) traveled to Chile to work as a housekeeper leaving behind her son who lives with his grandmother in Peru. This holiday season, Lina will find herself yearning to rest from the weight of her obligations to think, even for a brief moment, first about herself.
The Paths Of My Father (Brazil)
Dir: Mauricio Osaki
When 11-year Nhi's grandma is hospitalised, she is forced to join her absent father, a truck driver, on a journey around Vietnam. Nhi wants to escape to her hometown and reconnect with her roots, while the father sees it as a chance to give her away.
The New Works-in-Progress industry mentors are chosen from across industry disciplines. They are: programmer-curator Dorota Lech (HOT DOCS Forum Producer; TIFF international and lead programmer, Discovery section); producer-director-writer Greg Rhem (previously director of development HBO Documentary Films); and executive director Simon Kilmurry (International Documentary Association).
The 2019 Narrative mentors are: international programmer Jane Schoettle (previously TIFF, Palm Springs); distributor Sandro Fiorin (FiGa Films); film critic-writer-producer Thelma Adams (New York Film Critics Circle, New York Post, Us Weekly).
"This unique opportunity for our WIP filmmakers has proven remarkably important in bringing their stories closer to their audience," said SIFF artistic director Beth Barrett. "The impact of introducing industry and our SIFF audiences to the filmmakers during this critical time has yielded stronger films that have gone on to premiere at acclaimed festivals and win awards from all over the world."
SIFF New Works-in-Progress Forum Projects from 2018 include The Dive (Israel) from Yona Rozenkier, which premiered at Locarno, Jerusalem, and TIFF last autumn and will screen at SIFF 2019 as part of the main festival line-up, which runs from May 16-June 9. Individual tickets for festival screenings and special events go on sale on May 1 to SIFF members and May 2 to the general public.
The SIFF New Works-in-Progress Forum is supported in part by Vulcan Productions and Starbucks Roastery. SIFF would like to thank Ingeniux; Brotherton Cadillac Buick GMC in Renton; Encore; Hyatt Regency Seattle, the official hotel of the festival; Amazon Prime Video; The Boeing Company; and Wongdoody for their support of the 2019 Seattle International Film Festival.