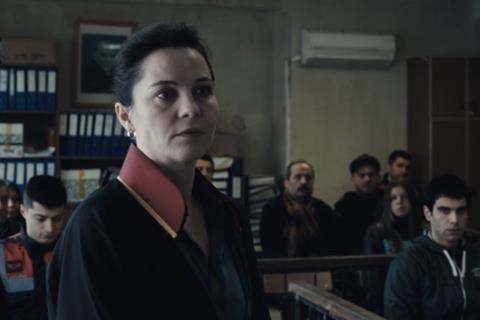 Projects from Bulgaria, Republic of Moldova, Turkey and Ukraine will participate in San Sebastian's WIP Europa, an initiative for films with majority European productions.
The four projects are all in post-production and will screen to producers, distributors, sales agents and programmers between September 19-21 to compete for the WIP Europa industry award, which assists with post-production, and the WIP Europa award of €10,000.
The second feature from Turkey's Selman Necar, Hesitation Wound, won a CineLink industry prize at Sarajevo last year and follows an attorney grappling with her client's suspected innocence on the day they face their sentence hearing. Necar was at San Sebastian in 2021 with Between Two Dawns which screened in the New Directors strand and was boarded by Luxbox.
Also selected is Belgian director Nadejda Koseva's The Trap about a man living in solitude on the banks of the Danube until a wild boar gets trapped near his house and foreign investors want to dump nuclear waste in the local village. Koseva's short films have previously competed at Berlinale, Sundance and Sarajevo, and her debut feature Irina screened at multiple festivals, going on to be nominated for a European Discovery award.

Anatol Durbala follows up from What A Wonderful World with Varvara. The Republic of Moldovian film depicts a desperate man who must grapple with his morals in order to earn the money needed to save his premature baby.
The fourth project selected is Do You Love Me? from Ukrainian filmmaker Tonia Noyabrova. It is set in Kyiv and follows a teenager trying to sabotage her parents' divorce plans. The film also participated in Cannes' fundraising and networking event for Ukrainian filmmakers held earlier this year.
Last year's WIP Europa award winner Ion Boars is competing in San Sebastian's New Directors strand with Carbon.
The San Sebastian International Film Festival (SSIFF) runs September 16-24.
WIP Europa participants 2022
Hesitation Wound (Turkey-Rom-Fr)
dir. Selman Necar
The Trap (Bul-Ger)
dir. Nadejda Koseva
Varvara (Republic of Moldova-Rom)
dir. Anatol Durbala
Do You Love Me? (Ukr)
dir. Tonia Noyabrova