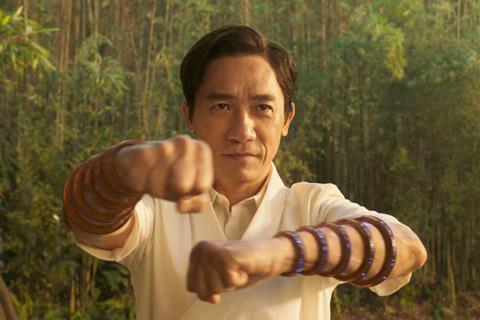 Worldwide Box Office September 3-5 2021
| Rank | Film (Distributor) | 3-day (World) | Cume (World) | 3-day (Int'l) | Cume (Int'l) | Territories |
| --- | --- | --- | --- | --- | --- | --- |
| 1 | Shang-Chi (Disney) | $127.6m | $127.6m | $56.2m | $56.2m | 42 |
| 2 | Free Guy (Disney) | $34m | $239.2m | $25.3m | $147.4m | 48 |
| 3 | Candyman (Universal) | $13.1m | $50m | $2.6m | $10.9m | 53 |
| 4 | Paw Patrol: The Movie (Paramount) | $11.1m | $80.6m | $7.1m | $50.3m | 48 |
| 5 | The Tomorrow War (Amazon) | $8.1m | $8.1m | $8.1m | $8.1m | 1 |
Credit: Comscore, all figures estimates
'Shang-Chi' sets pandemic-era individual territory records
UPDATED: The power of the Marvel brand has once again trumped the lesser profile of the original source material with the global box office for Shang-Chi And The Legend Of The Ten Rings.
Marvel's latest film – adding the Disney-owned studio's super-powered twist to the Asian martial arts genre – has debuted with $75.5m in North America, $63.1m in international territories and $138.6m worldwide. Adding in the four-day Labor Day US holiday the global tally is estimate for Labor Day holiday Monday in the US, that adds to a $157.5m global opening.
For comparison, Black Widow – which had the advantage of greater existing awareness for its character – opened with $159.2m worldwide in early July. That film was available simultaneously on Disney+ Premier Access, which doubtless contributed to its rapid erosion at the box office. Shang-Chi, in contrast, is a pure theatrical play at this stage.
Shang-Chi set pandemic-era opening-weekend records in UK/Ireland and four smaller markets – Kuwait, Iceland, Chile and Peru – and opened number 1 in all key territories.
UK/Ireland led the way among international markets, with an estimated $7.7m, ahead of South Korea ($6.5m), France ($4.3m), Russia/CIS ($3.2m) and Japan ($2.8m). Next come Mexico and Hong Kong (both $2.4m), Germany ($2.3m) plus Brazil, Spain and Italy (all $1.8m).
Shang-Chi has yet to open in China, and also most of south-east Asia where cinemas remain closed.
Disney reports that premium formats – including Imax, premium large format brands, 3D and motion auditoriums – accounted for 34% of the overall box office.
This coming weekend sees Shang-Chi arrive in Greece. The China release date is still to be confirmed.
'After We Fell' makes strong start in Germany, Russia, Spain
After We Fell, the third film in the YA series that began with After (2019) and After We Collided (2020) has begun with a robust estimated $9.2m in 31 international territories. The Voltage Pictures titles are based on novels by Anna Todd, and star Josephine Langford and Hero Fiennes Tiffin as two people – initially college students – enjoying a tumultuous relationship.
After We Fell opened at the top of the Belgian box office, and in second place (behind Shang-Chi) in multiple markets including Germany, Spain, Russia/CIS, Netherlands, Austria and Mexico.
Top five markets were Germany (an estimated $1.9m for local distributor Constantin), Russia/CIS ($1.5m for Volga), Spain ($1.2m for Sun/Diamond), Netherlands ($673,000 for Belga) and Poland ($583,000 ). The Polish number is 50% of the total achieved by After We Collided. Amazon Prime Video has France and UK distribution rights.
After We Collided grossed $2.4m in North America (where it was released simultaneously in cinemas and on demand) and $45.6m for international, combining for $48.0m worldwide. The original film After grossed $12.1m in North America and $57.6m for international, combining for $$69.8m worldwide. Next film to release in the series will be After Ever Happy.
'Free Guy' hits $239m global total
Despite fierce competition from its own new Marvel title, Disney's Free Guy exhibited strong staying power in its fourth weekend of release. The Ryan Reynolds starrer posted an estimated three-day $8.7m in North America (down 36%), or $11.2m including the Labor Day holiday, and $25.3m for international (down 33%).
Totals are $91.8 for North America (not including Labor Day), $147.4m for international, and $239.2m worldwide.
That's the fifth-biggest global total for a US studio movie this year, after Fast & Furious 9 ($711m), Godzilla Vs Kong ($468m), Black Widow ($372m) and A Quiet Place Part II ($297m). Below Free Guy are Cruella ($222m), The Conjuring: The Devil Made Me Do It ($202m), Jungle Cruise ($196m), The Suicide Squad ($163m) and Space Jam: A New Legacy ($155m).
Among international markets, Free Guy has done best in China ($57.0m), UK/Ireland ($18.2m) and Russia CIS ($9.8m). (See China box office report.) These three territories are out in front of a chasing pack led by France ($4.7m).
'Malignant' grosses $2.4m in early markets
Warner Bros' Malignant, directed by James Wan, has begun with an estimated $2.4m in 24 early markets – representing 38% of the film's global footprint. An additional 45 markets are set to open this week, including North America, Russia, UK/Ireland and Latin America.
Among these early markets, Spain led the way with $595,000, ahead of France ($515,000), Belgium ($216,000), Italy ($200,000) and Taiwan ($139,000).
Malignant is written by Akela Cooper, who has writing credits on Marvel TV series Luke Cage and Avengers Assemble, from a story by Cooper, Wan and his Romanian-born actress wife Ingrid Bisu.
'Paw Patrol' boosted by Poland opening
Paramount's Paw Patrol: The Movie is showing strong traction in the global box office chart – in fourth place for the weekend, grossing an estimated $4.0m for North America and $7.1m for international. Global total is now $80.6m.
The international weekend number was boosted by the film's opening in Poland, grossing a hefty $1.6m. The UK delivered an exceptionally strong hold (down 22%), as families took the chance to see the film on the last weekend of the summer school holiday.
Next to open the film are Brazil this Thursday (September 9) and Australia on September 16.