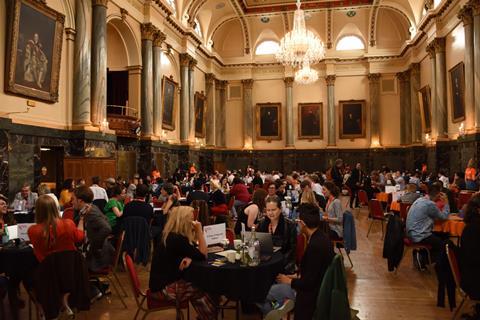 Sheffield Doc/Fest (June 6-11) has revealed the titles that will pitch for funding at the 15th edition of its MeetMarket initiative.
Among the line-up are films by Sally Potter and Mark Cousins, and docs about Frank Bruno and Sinead O'Connor.
62 project teams from 27 countries will pitch to international and UK decision makers for research, development and production funding. Over 300 delegates from 30 countries will attend the market, including executives from Netflix, BBC, Channel 4 and ESPN.
The festival has also announced 25 projects for the sixth edition of its Alternate Realities Talent Market. Projects in development will be presented in virtual reality, augmented reality, mixed reality, 360° video and a range of multi-media experiences that cover digital art works and installation pieces.
Both markets will take place on Monday 11 and Tuesday 12 June, at Sheffield's Cutlers' Hall.
Also announced today are a selection of industry speakers, panel sessions and filmmaker masterclasses.
Film journalist and BFI senior creator Danny Leigh will chair an industry panel featuring Fiona Campbell, controller of BBC Three, Mia Bays, director-at-large at Birds Eye View, and filmmaker Carol Morley, asking what the industry can do to support talent working without industry connections, financial family support or an educational head start.
Investigative journalist and presenter Stacey Dooley will give the BBC interview this year, at Sheffield's Crucible Theatre.
These events are in addition to the previously announced conversation between Leigh and Paul Greengrass; more speakers are to be confirmed in the coming weeks.
MeetMarket
Among the 27 countries represented at the MeetMarket are Australia, China, France, India, Sierra Leone, the UK and the US.
Projects include The Real Truman Show, in which director Clair Titley joins with the team behind 2018's McQueen including producer Andee Ryder, to pitch the story of how one Japanese TV audition turned into a real-life Truman show.
After appearing on the competition jury last year, Mark Cousins returns to DocFest to pitch The Story Of Looking, a guided tour through the visual history of the world, from the dawn of time to the digital age.
Sally Potter is working with her long-time collaborator, producer Christopher Sheppard, in pitching Oh Moscow, a musical documentary that seeks parallels between the past and present, using archive and contemporary news footage set against music composed by Lindsay Cooper, with lyrics by Potter herself.
Ard Mhacha Productions' feature documentary Nothing Compares will focus on the phenomenal rise to fame of Irish singer Sinead O'Connor, focusing on a five-year period between 1987 and 1992. Kathryn Ferguson is directing the feature and is also co-writing with Michael Mallie.
Director-producer team Adam Darke and Jon Carey will pitch two projects: Pills & Thrills: The Happy Mondays Story and the authorised and endorsed Bruno: The People's Champion, which has exclusive access to Frank Bruno's personal archive.
Four documentary series will be pitched at the 2019 market, including Cold Cases from director Mads Brügger and producer Peter Engel, a spinoff series from their documentary Cold Case Hammarskjöld, which won the World Cinema – Documentary directing award at Sundance this year. The series will look further into the mysterious death of United Nations Secretary General Dag Hammarskjöld.
Alternate Realities Talent Market
Among the projects pitching in the AR ma rket are The Fun Of Fear from Lester Francois and Anna Brady, an interactive VR documentary combining game engine graphics, audio narration and video.
Aaron Bradbury and Paul Mowbray will pitch Fractal Flight, inspired by the graphic novel Here by Richard McGuire and the time-travel film La Jetée by Chris Marker.
Fight Back, by Celine Tricart and Marie Blondiaux, is a documentary series about groups of women who literally fight for their rights.
Full list of MeetMarket projects
Angalaneq (The Tour)
Denmark, Norway, Greenland, Finland / Stray Dog Productions / Director: Mike Day; Producer: Henrik Underbjerg / Co-Producers: Sami Jahnukainen, Kristine Ann Skaret, Mike Day
Az House
Israel, United States / Heymann Brothers Films / Director: Anna Oliker; Producer: Barak Heymann
Beate & Serge: Nazi Hunters
United Kingdom / Roast Beef Productions Limited / Producer & Director: Mike Lerner
Because Of My Body
Italy / B&B Film / Director: Francesco Cannava; Director: Raffaele Brunetti
Bottlemen
Serbia / Rt Dobre Nade / Director: Nemanja Vojinović; Producers: Marija Stojnić, Nemanja Vojinović
Bruno: The People's Champion
United Kingdom / Gospel / Director: Adam Darke; Producer: Jon Carey
Chain Of Rocks
United States / Mooshido Productions / Director: Damon Davis; Producer: Chris Renteria
Children Of The Church
Ireland, Canada / Wildfire Films / Director: Kim Bartley; Producers: Adrian Mccarthy, Martha O'neill; Co-Producer: Trish Dolman
Cold Cases
Denmark, Norway, Sweden, Belgium / Wingman Media / Director: Mads Brügger; Producer: Peter Engel
Cruz
Mexico, Spain / Bwp / Director: Teresa Camou Guerrero; Producer: Bettina Walter / Executive Producer: Jenny Mügel
Dancing For Akeeda
United Kingdom / Antenna Pictures / Director: Dominic Ozanne; Producer: Jago Lee; Executive Producer: Deborah London-Harrington
Dark Rider
Belgium, Netherlands / Serendipity Films / Director: Eva Küpper; Producers: Elisa Heene, Eva Küpper; Co-Producers: Denis Vaslin, Hanne Phlypo
Defending The Beast
Denmark, Poland / Made In Copenhagen / Directors: Lukasz Konopa, Emil Langballe; Producer: Heidi Kim Andersen; Executive Producer: Helle Faber; Co-Producer : Pawel Kosun
Disappearing Village
United Kingdom / Director: Megumi Inman; Producer: Andy Glynne; Executive Producer: David Clews
Eartlings Calling
Sweden / Fosfor Produktion Ab / Directors: Per Bifrost, Alexander Rynéus; Producer: Malla Grapengiesser
Eli: A Dog In Prison
Germany, United Kingdom / Mako / Producers: Nora Mandray, Jason B. Kohl; Directors: Nora Mandray, Jason B. Kohl; Executive Producer: Sophie Robinson
Foreign Volunteers - In The Hell Of Raqqa
France / Premières Lignes Télévision / Directors: Pedro Brito Da Fonseca, Paul Moreira; Producer: Luc Hermann
Game Of Minds
Finland, Germany / Napafilms Ltd / Directors: Petri Luukkainen, Jesse Jokinen; Producers: Liisa Karpo, Marianne Mäkelä
Ghost Wives
United Kingdom / Odd Girl Out Productions Ltd / Producer & Director: Eva Weber
Gold Miners
Finland, Norway / Napafilms / Director: Inka Achté; Producer: Liisa Karpo; Co-Producer: Christian Falch
Hallelujah
Norway / Upnorth Film / Director: Tonje Hessen Schei; Producers: Christian Falch, Torstein Parelius
Have A Nice Day!
Brazil /Director: Tali Yankelevich; Producer: Minom Pinho; Co-Producer: Marco Del Fiol
Horsemen
United Kingdom / Sdi Productions Ltd; Parcel Of Rogues Ltd / Director: Amy Hardie; Producer: Sonja Henrici
Irak, Destruction Of A Nation
France / Zed, Tohubohu, Slug News / Director: Jean Pierre Canet
Kashmir
United Kingdom, India / Grain Media / Director: Sadhana Subramanian; Producer: Anna Murphy; Executive Producer: Orlando Von Einsiedel
Kings Of The Boardwalk
United Kingdom / Bungalow Town Productions Ltd / Directors: Joe Barker, Isabel Colbourn; Producers: Isabel Colbourn, Rachel Wexler, Jez Lewis
Lucy In The Sky
Australia, Russia /Director: Maria Dudko; Producer: Sam Griffin, Maya Kuzina; Executive Producer: Chris Hilton
Magaluf Ghost Town
Spain / Boogaloo Films / Directors: Miguel Ángel Blanca, Raúl Cuevas; Producer & Executive Producer: Bernat Manzano
Mama Bears
United States / Mama Bears Documentary / Director: Daresha Kyi; Producer: Laura Tatham; Executive Producer: Scotch Ellis Loring
Master Of Light
Netherlands, United States / Docmakers / Director: Rosa Ruth Boesten; Producer: Ilja Roomans; Executive Producer: Roger Ross Williams
Meetings With Monsters
Germany, United States / Director: John Goetz; Producer: Poul-Erik Heilbuth; Executive Producer: Barbara Biemann
Memento Mori
Denmark, Norway / Stray Dog Productions / Director: Christian Holten Bonke; Producer: Henrik Underbjerg; Co-Producer: Kristine Ann Skaret
Milisuthando (Working Title)
South Africa / The Good Black Project / Director: Milisuthando Bongela; Producers: Batana Vundla, Marion Jill Isaacs
Noggins
United States / Director: Noah Hutton; Producer: Kellen Quinn
Nothing Compares
Ireland, United Kingdom / Tara Film Limited / Director: Kathryn Ferguson; Producers: Michael Mallie, Eleanor Emptage
Off The Rails: Like. Comment. Subscribe
United Kingdom / Faction Films / Director: Peter Day; Producers: Rob Alexander, Grant Keir
Office 39
Germany / A & O Buero Filmproduktion / Directors: Sebastian Weis, Carl Gierstorfer; Producer: Tristan Chytroschek
Oh Moscow
United Kingdom, Poland, Germany / Adventure Pictures / Director: Sally Potter; Producers: Christopher Sheppard, Lucie Wenigerova, Anna Jancso; Co-Producers: Klaudia Smieja-Rostworowska, Isabel Iturriagagoitia
Pandora's Box
Hong Kong Sar, China, France / Cnex Foundation / Director: Zhao Liang; Producers: Serge Lalou, Ruby Chen, Zhao Liang
Pills & Thrills: The Happy Mondays Story
United Kingdom / Gospel / Director: Adam Darke; Producer: Jon Carey
Pray Away
United States / Multitude Films / Director: Kristine Stolakis; Producer: Jessica Devaney; Executive Producers: Daniel J. Chalfen, Jim Butterworth, Katy Drake Bettner
School Shooters (Working Title)
Denmark, Sweden, France / Final Cut For Real / Directors: Frida Barkfors, Lasse Barkfors; Producer: Anne Köhncke; Co-Producers: Frida Barkfors, Sallah-Edine Ben Jamaa
Screamers
Ireland / Cowtown Pictures / Director: Ciaran Cassidy; Producers: John Wallace, Alan Maher, Colum Mckeown
Stay Real - Waiting For Godot
Sweden / Picky Pictures / Directors: Tova Mozard, Staffan Julén; Producer: Daniel Pynnönen
The Concession
United Kingdom, Sierra Leone / Met Film Production / Directors: Jerry Rothwell, Sam Liebmann; Producer: Jerry Rothwell
The Creation Myth
United Kingdom / Hadaly Pictures / Producer & Director: Andrea Vecchiato
The Disappearing World Of Haruki Murakami
United Kingdom, France / My Accomplice / Director: Raphael Levy; Producer: Aleksandra Bilic
The Doubt Makers
France / Zed / Directors: Pascal Vasselin, Franck Cuveillier; Producer: Gaëlle Guyader
The Home
South Africa, United States / Producer & Director: Chase Musslewhite, Jessie Zinn; Executive Producer: Justin Cohen
The Long Friday
Iceland, United States / Alternate Image Productions, Inc / Director: Pamela Hogan; Producer: Hrafnhildur Gunnarsdóttir
The Longest Goodbye
United States, Israel / Director: Ido Mizrahy; Producers: Nir Sa'ar, Ido Mizrahy; Executive Producers: Valda Witt, Josh Braun
The Real Truman Show
United Kingdom / Misfits Entertainment / Director: Clair Titley; Producer: Andee Ryder; Executive Producer: Ian Bonhote
The Soldier
United Kingdom, Germany, France / Perfect Splice / Director: Aleksandar Nikolic; Producers: Gregor Streiber, Quentin Laurent; Co-Producer: Aleksandar Nikolic
The Story Of Looking
United Kingdom / Bofa Productions / Director: Mark Cousins; Producers: Adam Dawtrey, Mary Bell
The Worlds Of Eriko
Denmark, Norway / Sonntag Pictures / Director: Jannik Splidsboel; Producer: Sara Stockmann
To The Moon
Ireland / Inland Films / Director: Tadhg O'sullivan; Producer: Clare Stronge; Executive Producer: Celine Haddad, Fionnuala Sweeney
Tomboy
United States / Director: Lindsay Lindenbaum; Producer: Eleanor Emptage; Executive Producer: Senain Kheshgi
Towers Of London: F**K It Up
United Kingdom / Producers & Directors: Glenn Barden, David Hills; Executive Producer: Teddy Leifer
Ultras
Sweden / Story / Director: Ragnhild Ekner; Producer: Tobias Janson
Untitled Documentary Project
United States, United Kingdom / Director: Camilla Hall; Producer: Tabs Breese
Untitled Forbidden Stories Documentary
France / Forbidden Films / Directors: Alexis Marant, Arthur Bouvart, Jules Giraudat; Producer: Forbidden Stories; Executive Producer: Alex Winter; Co-Producer: Frenchkiss Pictures
World Economic Forum (Working title)
Germany, Switzerland / Gebrueder Beetz Filmproduktion / Director: Marcus Vetter; Producers: Georg Tschurtschenthaler, Caroline Schaper; Executive Producer: Christian Beetz; Co-Producer: Werner Schweizer, Dschoint Ventschr