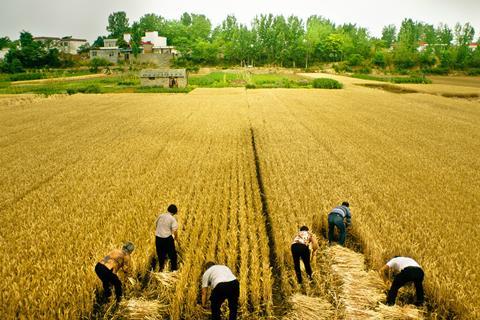 The UK's Sheffield Doc/Fest has revealed its online plans and selection for this year's edition, and has taken a stand with the Black Lives Matter movement.
The documentary festival previously announced that its edition would not run as planned from June 4-9 due to the Covid-19 pandemic and would instead screen films in Sheffield cinemas over a series of weekends throughout the autumn.
It has now confirmed a VoD platform, titled Sheffield Doc/Fest Selects, will launch on Wednesday (June 10) for UK-based audiences and will offer pay-per-view and subscription options until July 10. Its Exchange strand and filmmaker Q&As will be made available for free.
The platform will host 115 features and shorts from 50 countries, and includes 31 world premieres, 15 international premieres, five European premieres and 40 UK premieres.
A video library aimed at the film industry, titled Doc/Player, will be available globally from today until August 31.
In addition, Doc/Fest has partnered with streaming platforms hosted by the BFI, Doc Alliance Films, The Guardian and Mubi, which will host curated programmes at various points from July to November.
Physical screenings will go ahead between October and November, subject to restrictions.
Filmmakers include Jia Zhang-Ke with Swimming Out Till The Sea Turns Blue, which was nominated for the documentary award at the Berlinale earlier this year, and Lynne Ramsay with short Brigitte, which premiered during the Giornate degli Autori at Venice last year.
The Rebellions strand includes David France's Welcome To Chechnya, which chronicles the ongoing anti-LGBTQ persecution raging in the Russian republic of Chechnya and has picked up prizes at Sundance, the Berlinale and Thessaloniki.
Doc/Fest's pitching forums – MeetMarket and the Alternate Realities Talent Market – will both proceed from June 8-10 on virtual platforms while Doc Society will host online drop-in afternoons for delegates from June 11-12.
Black Lives Matter
The festival has also taken a stand with the Black Lives Matter movement, which has seen protests sparked around the world, primarily in the US following the killing of George Floyd by a police officer in Minneapolis.
In a statement, new Doc/Fest director Cíntia Gil said: "We stand with the Black Lives Matter movement… We acknowledge we are part of the problem, starting by the lack of representation within our own team.
"Within the film community and industry, access and representation is not fair, not all voices have been heard, not all images have been offered visibility. We acknowledge our responsibility as an institution, and we commit ourselves to do better, and to call on our industry to work with us for this change.
"It is not enough to show films by Black filmmakers, or to have Black people and communities represented on screen: we need to actively change the rules of the game. We need to work collaboratively: to form coalitions, to resist, and eradicate systemic racism within the film industry."
Gil was appointed last July after seven years as festival director of DocLisboa in Portugal.
Announcing the line-up today, she added: "The crisis we are living now point… to the systemic failure of institutions and nations, and their need to be equitable in their capacities to give respect to life, freedom and care. It has given us an acute sense of what needs to change and a desire for stronger bonds between us.
"This programme is our contribution to that: it comes from a collective effort to resist hegemonic views over cinema and its relation to the world and to our lives. It represents multiple conversations we want to continue in the near future, through different programmes and forms."
Sheffield Doc/Fest Official Selection 2020
(excludes shorts)
Into The World
Online from June 10
Aswang (Phil-Fr) Dir: Alyx Ayn Arumpac
Bitter Bread (Leb-Iraq) Dir: Abbas Fahdel
Flint (UK) Dir: Anthony Baxter
Influence (UK) Dirs: Diana Neille, Richard Poplak
Oeconomia (Ger) Dir: Carmen Losmann
Please Hold The Line (Austria) Dir: Pavel Cuzuioc
Seekers (Fr) Dir: Aurore Vullierme
The Secret Of Doctor Grinberg (Sp) Dir: Ida Cuellar
The Story Of Plastic (US) Dir: Deia Schlosberg
The Viewing Booth (Isr-US) Dir: Ra'anan Alexandrowicz
To See You Again (Mex) Dir: Carolina Corral
Us Kids (US) Dir: Kim A. Snyder
Vulnerable Beauty (Ita) Dir: Manuele Mandolesi
You Think The Earth Is A Dead Thing (Fr) Dir: Florence Lazar
To be screened in Sheffield in autumn, and online in Sheffield Doc/Fest Selects in parallel
Film About A Father Who (US) Dir: Lynne Sachs
Memory Is Our Homeland (Can) Dir: Jonathan Kolodziej Durand
Remnants Of A Revolution (Phil) Dir: Cha Escala
Swimming Out Till The Sea Turns Blue (Chi) Dir: Jia Zhang-Ke
The Kiosk (Fr) Dir: Alexandra Pianelli
Rebellions
Online from June 10
Blow It To Bits (Fr) Dir: Lech Kowalski
Corporate Accountability (Arg) Dir: Jonathan Perel
We Have Boots (US-HK) Dir: Evans Chan
We're Still Here (UK) Dir: Melissa Herman
Welcome To Chechnya (US-Rus) Dir: David France
Your Mothers Comfort (US-Bra) Dir: Adam Golub
Bakoroman (Burk-Fr) Dir: Simplice Herman Ganou
The Koro Of Bakoro: The Survivors Of Faso (Burk-Fr) Dir: Simplice Herman Ganou
To be screened in Sheffield in autumn, and online in Sheffield Doc/Fest Selects in parallel
Antonio & Piti (Bra) Dirs: Vincent Carelli, Wewito Pyiãki
The Art Of Living In Danger (Ger-Iran) Dir: Mina Keshavarez
Camagroga (Sp) Dir: Alfonso Amador
Construction (Lat) Dir: Ilona Bruvere
Our Land, Our Altar (Por) Dir: André Guiomar
The Filmmaker's House (UK) Dir: Mark Isaacs
Where's Edson? (Bra) Dir: Dacia Ibiapina
Ghosts and Apparitions
Online from June 10
Me And The Cult Leader (Jap) Dir: Atsushi Sakahara
Yãmīyhex: The Women-Spirit (Bra) Dirs: Sueli Maxakali, Isael Maxakali
To be screened in Sheffield in autumn, and online on Sheffield Doc/Fest Selects in parallel
Everything That Is Forgotten In A Instant (Arg) Dir: Richard Shpuntoff
Frem (Cze-Slo) Dir: Viera Čákanyová
The Metamorphosis Of Birds (Por) Dir: Catarina Vasconcelos (not online)
Mon Amour (Fr) Dir: David Teboul
Santikhiri Sonata (Thai-Ger) Dir: Thunska Pansittivorakul
Truth Or Consequences (US) Dir: Hannah Jayanti
Rhyme & Rhythm
Online from June 10
Breaking Barriers – The Casteless Collective (Ind-Ger) Dir: Maja Meiners
Bring Down The Walls (US-Ger) Dir: Phil Collins
Elder's Corner (Nig-US) Dir: Siji Awoyinka
The Go-Go's (US-Ire-Can) Dir: Alison Ellwood
Keith Haring: Street Art Boy (UK) Dir: Ben Anthony
Shut Up Sona (Ind) Dir: Deepti Gupta
Southern Journey (Revisited) (US-UK) Dirs: Rob Curry, Tim Plester
Universe (US) Dirs: Sam Osborn, Nicholas Capezzera
The Vasulka Effect (Ice-Cze-Den-Swe) Dir: Hrafnhildur Gunnarsdottir
To be screened in Sheffield in autumn, and online in Sheffield Doc/Fest Selects in parallel:
Faith And Branko (UK-Serb) Dir: Catherine Harte
King Rocker (UK) Dir: Michael Cumming
Medium (Arg) Dir: Edgardo Cozarinsky
Retrospective (Fr) Dir: Jérôme Bel
Schlingensief – A Voice That Shook The Silence (Ger) Dir: Bettina Böhler
Sisters With Transistors (UK) Dir: Lisa Rovner
Retrospective: Reimagining the Land
(More titles will be announced for the Sheffield screenings in autumn, and for an online programme on Doc Alliance Films)
Mother India (Ind) Dir: Mehboob Khan
A Japanese Village (Jap) Dir: Shinsuke Ogawa
Exchange
Online (and free) from June 10
The Hyperwomen (Bra) Dirs: Carlos Fausto, Leonardo Sette, Brazil, 2011, 80'
Tava, The Stone House (Bra-Arg) Dirs: Vincent Carelli, Patricia Ferreira (Keretxu), Ariel Duarte Ortega, Ernesto Ignacio de Carvalho
Corumbiara: They Shoot Indians, Don't They? (Bra) Dir: Vincent Carelli
Martyrdom (Bra) Dir: Vincent Carelli