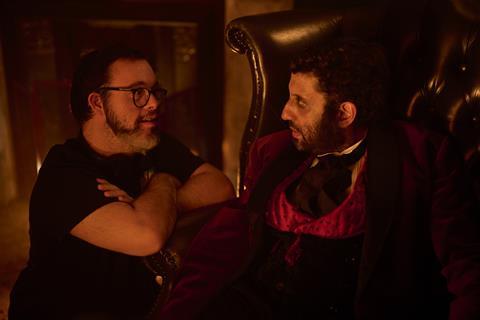 Filming is underway on UK filmmakers Bruce Fletcher and Peter Beard's feature-length documentary Otto Baxter: Not A F***ing Horror Story, which details the making of a 30-minutes film by Otto Baxter, who has Down Syndrome called The Puppet Asylum.
Both projects have been backed by pay-TV broadcaster Sky which said it is the first time a major UK broadcaster has comissioned a project of this scale from a person with Down Syndrome. Both are produced by Archface Films' Daisy Allsop.
They will air on Sky Documentaries, and partner streaming service NOW, in 2023 after a theatrical window.
Baxter's previous work includes acting and associate producing on the Bafta-nominated short film samuel-613 directed by Billy Lumby.
Not A F***ing Horror Story will take a look at Baxter's life, fusing archival and present day footage with drama, and explore how the UK's attitudes towards disability have progressed over time.
Fletcher and Beard have both won Bafta's for previous documentary work; Fletcher for TV series Ambulance and Beard for My Son The Jihadi. David Nath is executive producing.
Beard and Fletcher also act as producers on The Puppet Asylum.
The short film is a horror biopic, directed and written by Baxter, that re-imagines his life in Victorian London from a horned baby to being held captive in a puppet asylum.
Actor Sally Phillips is the executive producer.
Both projects are produced by All3Media-backed Story Films, in association with Sky Studios and Archface Films and developed with the support of the BFI awarding National Lottery funding. NBCUniversal Global Distribution is handling international sales of Otto Baxter: Not A F***ing Horror Story on behalf of Sky Studios.