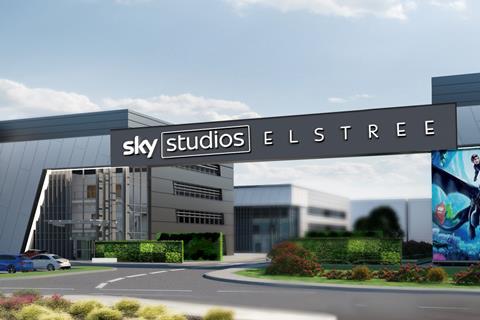 Sky is planning to build a new 32-acre TV and film studio in Elstree, Hertfordshire., completely independent of the existing Elstree Studios.
Sky Studios Elstree are being built with the backing of Sky's new owner Comcast and in partnership with sister-company NBCUniversal. Legal & General will develop its site and provide financing for the project.
Sky said the studios would house 14 sound stages, lead to the creation of over 2000 new jobs, and help generate an additional £3 billion of production investment in the UK's creative economy over the first five years of operation, from Sky, NBCUniversal and other producers.
Subject to planning consent the 32-acre development is expected to open in 2022 and will be able to host the production of several films and TV shows simultaneously, with each of the 14 sound stages covering over 20,000 sq ft. The site will include production offices, a set construction workshop, a screening cinema and post-production and digital facilities.
Sky Studios Elstree will work in close collaboration with Elstree Studios but both businesses will be managed independently of each other.
It will allow Sky Studios to produce more original content in-house. The new studio space will also play host to film productions from Universal Pictures, Focus Features and Working Title, and television series from NBCUniversal Content Studios. It will also have capacity to host productions from third-party producers.
The creation of Sky Studios Elstree will provide space at a time when producers are struggling to find studios in the UK for high end TV and film productions.
Earlier this year Netflix signed a 10-year-lease on Shepperton Studios, with Disney securing a similar deal for Pinewood.
Sky Studios Elstree will be located in the borough of Hertsmere. Legal & General are in the process of finalising a design of the scheme and expect to submit a formal planning application early next year.
This story first appeared on Screen's sister site Broadcast.