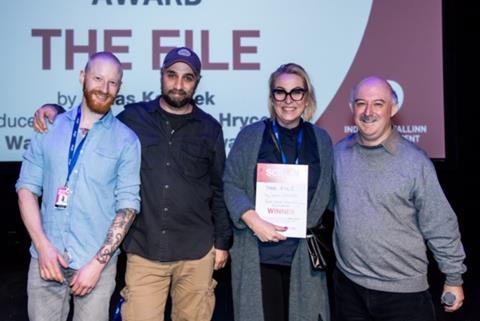 Slovakian project The File (Spis) has won Screen International's Best Pitch Award at the Baltic Event Co-Production Market at the Tallin Black Nights International Film Festival.
Producer Wanda Adamik Hrycova of Bratislava-based Wandal production, director Jonas Karasek and the film's Finnish co-producer Oskari Huttu of Lucy Loves accepted the award, which offers editorial coverage throughout the film's life-cycle.
The €1.8m political thriller, based on real events surrounding one of the biggest corruption scandals in Eastern European history, will be the third feature directed by Karasek.
It continues his exploration of political dramas following The Candidate, which became the most successful Slovak film of 2013 with 80,000 admissions, and Amnesty, which was released last month and centred on the 1989 Czechoslovak Velvet Revolution.
Previous winners of Screen's Best Pitch Award have included Petri Kotwica's Rat King, Ilmar Raag's Erik Stoneheart, Vicky Thornton's hybrid documentary (N)Ostalgia, Juuso Latio and Jukka Vidgren's Heavy Trip, Robert Hloz's Restore Point and Hamy Ramezan's The Oasis Of Now.
'The Great Match' wins Eurimages prize
This year's Eurimages Co-Production Development award, worth €20,000, went to the comedy drama The Great Match. Directed by Polish filmmaker Filip Syczynski, it is based on his own life and is about a boy from a refugee family who dreams of becoming a tennis player.
The €1.6m project will be produced by Warsaw-based talent management, production and packaging company Match&Spark with partners from Romania and Germany. Principal photography is scheduled for summer 2021 .
The jury also gave free accreditation for the Cannes' Producers Network next May to Romanian producer Carla Fotea of microFILM and Estonia's Andreas Kask of Nafta Films.
The jury comprised Lithuanian producer Uljana Kim, ZDF/Arte commissioning editor Simon Ofenloch and Romania's Eurimages national representative Alex Traila.
Debut directors win works-in-progress awards
Following a presentation of works-in-progress projects, Latvian drama The Pit won the post production award worth €10,000.
Marking the debut feature of Dace Puce, it will be produced by Riga-based Marana Productions.
The Baltic Event Works in Progress award, which aims to help cover the film's promotional and distribution costs in the Baltic States and is worth €3,000, went to drama Brownie (Schoko).
Made by another debut filmmaker, German director Sarah Blaßkiewitz, the producer is Berlin-based Weydemann Bros, the outfit behind arthouse breakout hit System Crasher.
The jury included Sri Lankan director of photography and festival curator Dhanushka Gunathilake, Level K's Debra Liang and US journalist and festival programmer Alissa Simon.