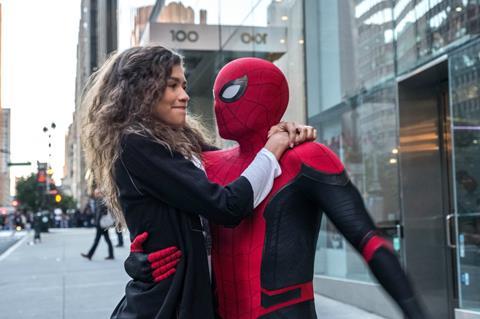 After splitting up as Spider-Man franchise partners over the summer, Sony Pictures and The Walt Disney Studios appear to have made peace again and said on Friday (27) they will team up on a third stand-alone film in the Homecoming series starring Tom Holland.
On the previous two Spider-Man films, Spider-Man: Homecoming and Spider-Man: Far From Home, the studios co-financed the films and Disney received 5% of first dollar gross and kept merchandising rights. The arrangement fell apart when it is understood Disney pushed for a 50-50 co-finance arrangement.
However it would appear that Disney was keen to maintain a partnership. Last month Spider-Man: Far From Home became not only Sony's highest performing stand-alone Spider-Man film but the biggest release in the studio's history. It finished on $1.13bn worldwide, of which $740.7m came from international markets.
The new arrangement calls for Marvel Studios and president Kevin Feige to produce the third film in The Spider-Man Homecoming series, scheduled for release on July 16, 2021.
As part of the deal, Spider-Man will also appear in a future Marvel Studios film. Amy Pascal will join the producer roster through Pascal Pictures after serving as producer on the first two in the Homecoming series.
Sony obtained rights to Spider-Man from Marvel in 1999 and has made seven live-action features as well as the animated Spider-Man: Into The Spider-Verse. Feige was credited as producer on the two most recent Homecoming series films and as executive producer on four earlier instalments.
Holland first played the character in Marvel Cinematic Universe outing Captain America: Civil War before he starred in Homecoming in 2017 and this year's Far From Home.