A very long but occasionally spectacular presentation by the studio rounded out the CinemaCon programme on Tuesday and delivered the most winning appearance yet by a pair of A-listers.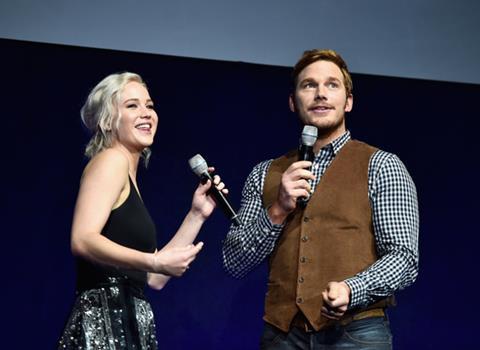 The session at the Colosseum started in unfortunate style when a sizzle reel unspooled without sound, much to the chagrin of Sony Pictures Entertainment chairman Tom Rothman.
However things quickly picked up as Jennifer Lawrence and Chris Pratt charmed the crowd, and the studio's new Spider-Man, Tom Holland, flew in straight from the world premiere in Hollywood of Captain America: Civil War to announce that Sony's upcoming webslinger reboot will be called Spider-Man: Homecoming.
Rothman made a by-now familiar appeal to preserve the integrity of the theatrical experience and kicked off the presentation by highlighting two titles from TriStar, the division he ran before his most recent promotion 14 months ago.
Billy Lynn's Long Halftime Walk from Ang Lee is scheduled to open on November 11 and is in the midst of a complicated post-production that has already sparked concern that its technical specifications may be too exacting for some exhibitors.
Nevertheless Rothman gushed about the war drama. He also reserved special praise for Morten Tyldum's sci-fi adventure Passengers, a project that has gone through many iterations but is now in the home straight and, based on the teaser, looks exquisite.
Jennifer Lawrence and Chris Pratt, who play strangers who awaken early from hibernation after a malfunction on board a long-distance space transporter, exuded genuine chemistry as they delivered the most entertaining on-stage appearance yet by any star at this year's convention.
Sony's worldwide distribution chief Rory Bruer assumed the reins as show emcee and talked up an extensive slate.
Highlights included Edgar Wright's action thriller Baby Driver and Danny Boyle's upcoming Trainspotting sequel for 2017 and Cannes selection Money Monster from TriStar, and Screen Gems genre titles Resident Evil: The Final Chapter (2017) and horror Don't Breathe (August 26).
Sony Pictures Animation chief Kristine Belson thumped the tubs for a 2017 slate that includes Smurfs: The Last Village, The Emoji Movie, Hotel Transylvania 3, and Untitled Nativity Movie, which is being made in association with Sony's in-house faith-based label Affirm Films.
Due to arrive in 2018 is Animated Spider-Man, which Belson promised would dazzle and surprise.
Bruer introduced teasers for The Angry Birds Movie, shark attack horror The Shallows – both of which are due out this summer – and showed a slice of recent SXSW world premiere and R-rated animation, Sausage Party.
Antoine Fuqua turned up with Pratt to talk about his The Magnificent Seven remake, which also stars Denzel Washington and Ethan Hawke and is scheduled for release on September 23.
Before Tom Holland concluded the session, film-maker Paul Feig brought on Melissa McCarthy and her Ghostbusters teammates Kristen Wiig, Kate McKinnon, and Leslie Jones to show the first sequence from the film.