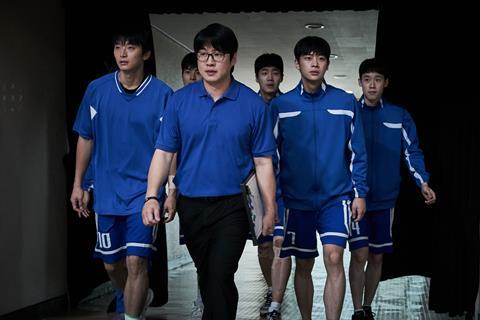 South Korea's K-Movie Entertainment has closed a slew of deals on basketball comeback drama Rebound led by Signal Pictures for the UK, Australia and New Zealand.
The film also sold to Taiwan (Movie Cloud), Singapore, Malaysia, Indonesia, Vietnam and Thailand (Clover Films), Philippines (888 Films International), in-flight (Encore), CIS (Kinologistika), Mongolia (The Filmbridge) and Hong Kong (Disney Hong Kong).
Written by Kwon Sung-hui (The Spy Gone North) and Kim Eun-hee (Netflix's Kingdom), the film is based on a true story of the miraculous comeback by Busan's Jung-Ang High School basketball team.
Directed by Chang Hang-jun (Forgotten), it stars Ahn Jae-hong (Time to Hunt), Lee Sin-young (TV's Crash Landing On You), Jung Jin-woon, Kim Teak, Jung Gun-joo, Kim Min and Ahn Ji-ho.
Produced by BA Entertainment (The Gangster, The Cop, The Devil) and Walkhouse company, the film is set for local release in April.
K-Movie Entertainment is having a market screening of the film today (March 13) at Filmart in Hong Kong.