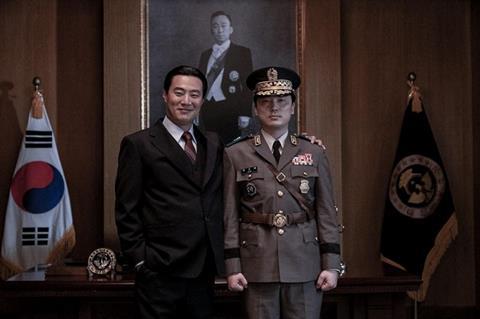 Woo Min-ho's The Man Standing Next will be South Korea's submission to the 93rd Academy Awards' best international feature film category, the Korean Film Council (KOFIC) has confirmed.

The submission follows the sweep of this year's Oscars by Bong Joon Ho's Parasite for best picture, director, original screenplay and international feature film.
The Man Standing Next is set in the 1970s when South Korea's authoritarian regime controlled the country utilising political terror tactics carried out by the Korean Central Intelligence Agency (KCIA). When the status quo is disrupted by Koreagate – a scandal involving the KCIA, members of the US Congress and South Korean politicians – former and current KCIA operatives and their satellites manoeuvre to gain control.

The film stars Lee Byung-hun who, in addition to starring in Woo's previous film Inside Men, is also known for turns in Hollywood films such as Red 2 and GI Joe: The Rise Of Cobra.

The Man Standing Next also features Lee Sung-min (The Spy Gone North) and Kwak Do-won (The Wailing), as well as Lee Hee-jun and Kim So-jin – both from Woo's previous film The Drug King.

Released locally on January 22, The Man Standing Next clocked up 4.75 million admissions and $36.4m for Showbox, according to KOFIC. It is currently the top box-office hit of this pandemic-afflicted year in South Korea.
Selection process
Korea's Oscar submission was decided by a five-person committee of film professionals appointed by KOFIC who would not have any conflict of interest. Led by critic and former Bucheon Fantastic Film Festival (BIFAN) programmer Kim Bongseok, the committee also included producer Hanna Lee (Secret Sunshine), director Hong Ji-young (Will You Be There?), cinematographer Choi Young-hwan (Veteran) and former Jeonju International Film Festival programmer Lee Sang-yong.

The committee considered 13 films – including Yoon Dan-bi's drama Moving On, Yeon Sang-ho's zombie thriller Peninsula, Kim Seung-woo's thriller Bring Me Home and Yang Woo-suk's Steel Rain 2: Summit – before selecting The Man Standing Next.

"It is a fascinating film in that it squarely shows the somewhat dark history of South Korea, which made rapid leaps in post-war economic development and is now leading cultural trends," said the committee in a statement which also lauded Lee Byung-hun's performance.

The star is nominated for best actor at the upcoming Asian Film Awards (to be held October 28 during the Busan International Film Festival) for his performance in The Man Standing Next.

"Although there was a strong perception that the Academy Awards were US film awards, with Parasite's winning [this year], they have shown themselves to be a festival of films where works from around the world, including Asia, compete," noted the committee.

They also commented on the heightened interest in Korean films after the Parasite win and said the committee took that into account in picking a film they felt could appeal to the broadest cross-section of the Academy's international membership.