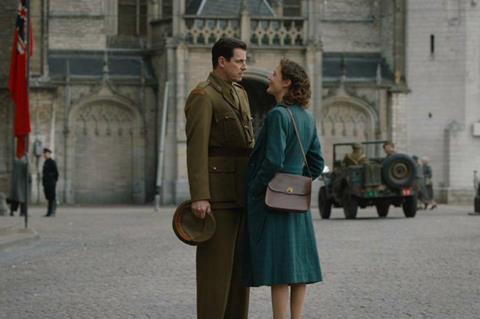 Another TIFF deal trickled in on Wednesday (Sept 11) as the pace of acquisitions crawled along, with Sony Pictures Classics confirming it had acquired all rights in all media to postwar drama Lyrebird in North America, Latin America, Eastern Europe, Scandinavia, the Middle East, and Asia.
At time of writing, several films remained in play, including Bad Education. Cory Finley's school embezzlement film starring Hugh Jackman and Allison Janney is understood to have sparked several offers and Endeavor Content and CAA Media Finance are taking their time to settle with the right distributor.
Vicky Krieps, Guy Pearce, Roland Moller and Claes Bang star in Lyrebird, which premiered at Telluride and received its international premiere at TIFF on Wednesday night (11). It screens again on Thursday and Friday.
Bang plays a soldier in postwar Europe who investigates an artist (Pearce) accused of being a Nazi collaborator, and comes to believe the man is innocent.
30WEST co-founder Dan Friedkin made his feature directorial debut on Lyrebird and 30WEST represented the rights and brokered the deal with SPC.
James McGee, Mark Fergus and Hawk Ostby wrote the screenplay. Ryan Friedkin, Danny Friedkin, and Bradley Thomas produced, while Gino Falsetto, Peter Heslop and Ridley Scott served as executive producers. FilmNation handles international sales.
Last week SPC acquired US rights to Michael Winterbottom's Greed starring Steve Coogan and backed by Sony Pictures International Productions and Film4.