Latest Bond mission continues to excel at the start of its run, as other films receive half term boost.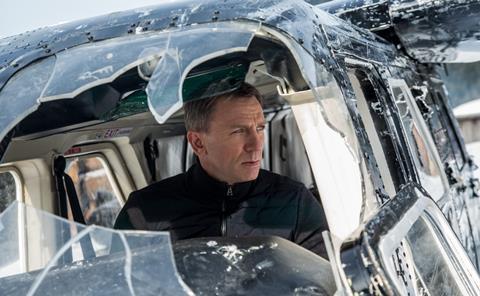 Spectre has followed up the biggest Tuesday ever at the UK box office by achieving the biggest Wednesday ever.
Sony's latest James Bond mission took an estimated $8.8m (£5.7m) on Wednesday to lift its early running tally to an excellent $24.5m (£16m).
It is all the more impressive when you consider that Spectre only had two full days of screenings, with just evening screenings on Monday [Oct 26].
If the film continues this trajectory through to Sunday, Spectre could well be looking at an opening seven days of more than $60m (£40m), which would top Skyfall's seven-day result of $57.15m (£37.33m) as the biggest ever.
Record-breaker
Spectre is guaranteed to go down in the records book as the biggest opening ever in the UK.
But whether it can match Harry Potter and the Deathly Hallows Part 2's Fri-Sun tally of $36.4m (£23.75m), achieved on its release in July 2011, remains to be seen.
Skyfall's Fri-Sun total of $30.9m (£20.18m) in October 2012 may be a more achievable target.
The performance over Mon-Weds means Spectre has already surpassed the openings of Casino Royale ($20.5m/£13.37m) and Quantum of Solace ($23.5m/£15.38m), although neither film opened as widely as Spectre's 647 sites.
And while Spectre is soaring, it doesn't necessarily mean the rest of the market is suffering as a result.
Half-term boost
Given this week's school half term, family animation Hotel Transylvania 2 is enjoying a strong week, while fantasy adventure Pan is getting some wind in its sails too.
Even Minions and Inside Out are enjoying boosts, despite being later in their runs.
Arguably these films would have succeeded with or without Spectre, but the reported numerous sell-outs for 007 could well be having a positive knock-on effect, especially for fellow 12A effort The Martian.
With good word-of-mouth, Ridley Scott's latest has had a terrific run to date and this has meant it has remained in sites where it is an alternative to audiences turned away from sold-out screenings of Spectre.
Over Mon-Weds, The Martian has already added more than $918,000 (£600,000) to hit $32.1m (£21m), which suggests it may not suffer as badly this coming weekend as many have expected.
Another Fox release, Suffragette, has continued to post healthy midweek numbers, taking almost $1.2m (£800,000) over Mon-Weds as it nears $11m (£7m) at the UK box office.
Admissions up
September admissions were recently confirmed as being up 8.5% on 2014 at 9.2 million, despite being a historically softer month.
The result means this year is already 7.2% up on 2014 with 122.6 million admissions to date.
With The Hunger Games: Mockingjay - Part 2 and Star Wars: The Force Awakens to come, the current performance of half term - and Spectre - is only the start of the Q4 success story.