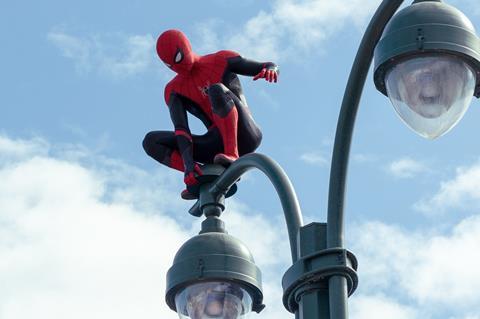 Columbia Pictures' Spider-Man: No Way Home became Sony Pictures' highest-grossing film of all-time on Tuesday (December 28) as a $49.7m global haul propelled the tentpole past the $1.13bn mark set by Spider-Man: Far From Home to reach $1.16bn after 14 days.

Spidey defied pandemic concerns and tight restrictions amid the worldwide Omicron spread and grossed $21.3m on Tuesday from 4,336 North American locations to become the third fastest film of all time to cross the half-billion mark as it settled on $516.4m after 12 days.
In doing so No Way Home vaulted past the likes of Avengers: Infinity War (15 days) and Star Wars: The Last Jedi (16) and ranks behind only Avengers: Endgame (eight) and Star Wars: The Force Awakens (ten).
The international arena contributed $28.4m for $644.9m led by the UK on $76.6m, Mexico on $57.9m, South Korea on $43.2m, France on $42.1m, and Australia on $35.9m.
Elsewhere the pandemic's first $1bn hit directed by Jon Watts and starring Tom Holland and Zendaya has amassed $35.6m in Brazil, $30.9m in India, $30.1m in Russia, $23.2m in Germany, $21m in Italy, and $18.5m in Spain. Hong Kong has produced $14.1m, Taiwan $13.2m, Argentina $12m, and Malaysia $10.8m.
Remarkably No Way Home has not opened in China, where it remains unset. The huge box office market, which has become the world's biggest since the pandemic began, delivered some $199m for Far From Home and contributed around $64m for No Time To Die this year.
While No Way Home has overtaken the $613m mark established by No Time To Die to rank as Hollywood's biggest international release – let alone North American release – of 2021, China still has bragging rights with the three highest grossing films at the international box office this year. The Battle At Lake Changjin, Hi, Mom and Detective Chinatown 3 have amassed approximately $903m, $822m and $686m, respectively.