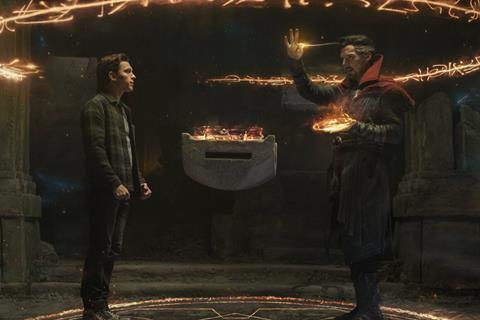 Worldwide box office December 31-January 2
| Rank | Film (distributor) | 3-day (World) | Cume (World) | 3-day (Int'l) | Cume (Int') | Territories |
| --- | --- | --- | --- | --- | --- | --- |
| 1. | Spider-Man: No Way Home (Sony) | $131m | $1.37bn | $78.3m | $759m | 62 |
| 2. | Embrace Again (various) | $83.9m | $83.9m | $83.9m | $83.9m | 3 |
| 3. | G Storm (various) | $55.5m | $55.5m | $55.5m | $55.5m | 6 |
| 4. | Sing 2 (Universal) | $36.8m | $144.5m | $17.2m | $54.8m | 49 |
| 5. | Another Me (various) | $27.6m | $27.6m | $27.6m | $27.6m | 1 |
| 6. | The King's Man (Disney) | $18.6m | $47.8m | $14.1m | $28.3m | 23 |
| 7. | The Matrix Resurrections (WB) | $17.5m | $106m | $13.7m | $75.1m | 77 |
| 8. | Fireflies In The Sun (various) | $12.6m | $90.3m | $12.6m | $90.3m | 1 |
| 9. | Encanto (Disney) | $4,5m | $205.7m | $3.5m | $114.4m | 37 |
| 10. | Ghostbusters: Afterlife (Sony) | $4.1m | $80.8m | $4.1m | $31.9m | 45 |
Credit: Comscore, all figures estimates, click top right to expand
UK/Ireland and Germany both see weekend spike for 'Spider-Man: No Way Home'
The third weekend of play for Spider-Man: No Way Home saw the Sony release overtake Black Panther to become the 12th biggest film of all time at the global box office – with takings to date of $1.37bn.
The weekend session saw estimated North America box office of $52.7m, and $78.3m for international, taking the respective totals to $610m and $759m.
No Way Home will next overtake 11th-placed Avengers: Age Of Ultron ($1.40bn) and 10th-placed Frozen 2 ($1.45bn). The all-time global chart is led by Avatar ($2.85bn).
Among international territories, France led the way with No Way Home at the weekend, with an estimated $8.1m, down 19%, ahead of UK/Ireland with $7.8m, up 25%. Very few cinemas open on Christmas Day in UK/Ireland so the previous weekend was hampered by the holiday closures.
Germany also saw a box office rise for No Way Home at the weekend – up 7% on the previous session.
For cumulative totals, UK/Ireland tops the table among international markets with $92.4m, ahead of Mexico ($64.9m), South Korea ($51.4m), France ($50.2m), Australia ($42.0m) and Brazil ($40.2m).
Japan (January 7) and Philippines (January 8) open No Way Home this coming weekend, with Slovakia and Norway to follow. China has yet to date the film for release.
No Way Home is the top-grossing Spider-Man film of all time, overtaking 2019's Far From Home ($1.13bn). Next in the ranking for the franchise come 2007's Spider-Man 3 ($895m) and 2017's Spider-Man: Homecoming ($880m). In other words, three of the top four highest-grossing Spider-Man films of all time come from the current iteration of the franchise starring Tom Holland and directed by Jon Watts.
Holland's version of the character also featured in Avengers: Endgame, Avengers: Infinity War and Captain America: Civil War, which are respectively the second, fifth and 23rd biggest films of all time at the global box office. The six films featuring Holland credited as Spider-Man have grossed a collective $9.4bn. (The actor is uncredited in Venom: Let There Be Carnage.)
'Sing 2' soars with $37m weekend
Universal's Sing 2 entered what was essentially the film's second weekend of wide global release, grossing an estimated $19.6m in North America (down just 12% from the Christmas weekend) and $17.2m for international (down just 2% in holdover markets). The numbers combine for an estimated $36.8m, taking the cumulative total to $144.6m.
Among holdover markets, France led the way with an estimated $4.0m in its second weekend of play, up 2% from the Christmas weekend. Next come Mexico ($1.9m), Australia ($1.8m) and Russia/CIS ($1.4m), likewise all playing the Illumination Entertainment animation for the second week of release.
Sing 2 opened in 11 new markets at the weekend (nine in Latin America, plus Ukraine and Malaysia), taking the international territory total to 48. Top performer among the new markets was Ukraine ($1.2m).
In cumulative totals, France ($12.7m) leads the international pack, ahead of Mexico ($7.6m), Australia ($5.4m), Russia/CIS ($4.6m) and Spain ($3.6m).
The original Sing movie – which like Sing 2 was directed by Garth Jennings – grossed $634m in 2016: $270m in North America and $364m for international. Comparisons at this stage are hard to make, as the early release patterns were different, but Universal says that overall Sing 2 is tracking 29% behind the first film at the same point of release.
Brazil and South Korea open Sing 2 this coming weekend, with Germany and UK/Ireland to follow later in January, and Japan in March.
Also for Universal, House Of Gucci delivered an estimated $3.2m in international at the weekend, and $3.9m globally. The global total is now $126m. Australia opened the film with an estimated $1.1m. In cumulative totals, UK/Ireland is the top international territory with $11.5m. South Korea and Japan both open in mid-January.
'The King's Man' closes in on $50m worldwide
Disney's release of Matthew Vaughn's The King's Man was the third-highest grossing US studio title at the weekend globally, behind Spider-Man: No Way Home and Sing 2, and ahead of The Matrix Resurrections and Encanto.
The spy action prequel, which is set before and during the First World War, grossed an estimated $14.1m for international (from 22 markets so far) and $4.5m in North America. Cumulative totals are respectively $28.3m and $19.5m, combining for $47.8m.
Top international territory so far is South Korea, with an estimated $6.6m since December 22, followed by Japan ($4.8m since December 24) and UK/Ireland ($4.6m since December 26).
The King's Man topped the chart in Taiwan, with an estimated $1.8m, and was the top new release in both France ($2.2m) and Spain ($600,000).
This coming weekend sees The King's Man land in Germany, Italy, Australia and Brazil, as well as eight smaller European territories, another eight in Latin America/Caribbean, and New Zealand.
Vaughn's original Kingsman: The Secret Service grossed $414m worldwide in 2014, and sequel Kingsman: The Golden Circle reached a very similar $411m in 2017.
'The Matrix Resurrections' crosses $100m barrier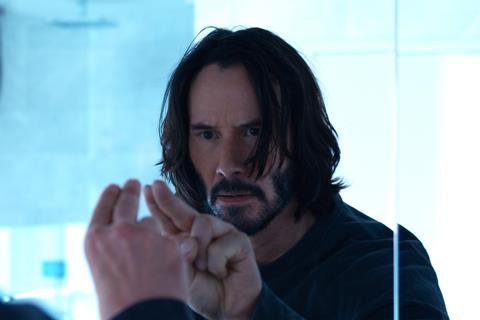 Warner Bros' The Matrix Resurrections, currently playing its second week domestically and in most international markets, grossed an estimated $3.8m in North America and $13.7m for international. Totals so far are $30.9m for North America, $75.1m for international and $106.0m worldwide.
Warner Bros estimates the fourth Matrix film experienced a 52% drop in holdover markets internationally, with strongest holds coming in Japan (-19%), UK/Ireland (-20%) and Germany (-23%). Italy opened on Saturday (January 1) with an estimated two-day $1.0m.
In cumulative totals, Japan ($9.7m) leads ahead of UK/Ireland ($7.0m), Russia/CIS ($6.8m) and France ($5.8m), then Mexico and Germany (both $3.9m), and Australia ($3.7m).
Next to release are China and the Netherlands (both January 14).
In 2003, Matrix sequels Reloaded and Revolutions respectively grossed $742m and $427m worldwide – which compare with $467m for 1999's The Matrix. China was not a mature box office market back in 1999 or 2003, so it will be interesting to see how the territory factors in with Resurrections.
Chinese titles dominate global top five
Both Disney's The King's Man and Warner Bros' The Matrix Resurrections failed to make the top five of Comscore's global box office chart for the weekend – thanks to the strong performance of local titles in China and Hong Kong.
New releases Embrace Again, G Storm and Another Me ranked second, third and fifth for the weekend globally, respectively with $83.9m, $55.5m and $27.7m.
Drama Embrace Again (from China Film Company) is directed by female filmmaker Xue Xiaolu (2019's The Whistleblower) and revolves around stories of a group of ordinary people during the early months of the Covid-19 outbreak in Wuhan.
G Storm is the fifth and final instalment of a Hong Kong crime thriller franchise from David Lam, completing the story began with Z Storm (2014), and continued with S Storm (2016), L Storm (2018) and P Storm (2019). The film sees the return of Louis Koo as an anti-corruption officer, this time investigating a case in Hong Kong's immigration department.
Comedy Another Me (aka Li Mao Huan Tai Zi) is directed by Gao Ke and stars Chang Yuan (Goodbye Mr Loser) in a dual role – as an ordinary man and the prince whom he resembles.