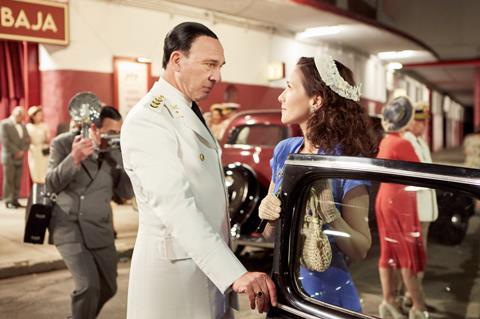 The Walt Disney Company's Latin American streamer Star+ underlined its original production push by premiering the first episode of its Eva Perón miniseries Santa Evita at Spain's Conecta Fiction & Entertainment this week, and showcasing four more dramas at the TV networking and co-pro event held in Toledo.
Launched last year, entertainment and sports platform Star+ is available in Latin America as a standalone service or, as part of Combo+, a bundled offering with access to Disney+.
Santa Evita, produced by Star Original Productions and directed by Rodrigo Garcia, tells how the embalmed body of Eva Perón, the wife of Argentinian president Juan Perón, went missing for 16 years.
Executive produced by Salma Hayek Pinault, Santa Evita stars Natalia Oreiro, Darío Grandinetti, Ernesto Alterio and Francesc Orella and is based on the book by Tomás Eloy Martínez.
Mariana Pérez, vice president of development and production at The Walt Disney Company Latin America said the drama is not a biopic of Eva Perón but the "story of how the body of a dead woman became a political hostage".
The project took seven years to develop with Argentinian company Non Stop, and was later delayed by the pandemic.
Pérez stressed the arrival of García (Nine Lives, Mother And Child, In Treatment) as showrunner and director and Salma Hayek Pinault as executive producer were key in powering the series ahead. Santa Evita will be released by Star+ on July 26, the 70th anniversary of Perón's death.
Also at Conecta Fiction & Entertainment, Pérez and Leonardo Arguindey, VP of operations and production strategy VP for Disney in Latin America, introduced and showed trailers for three more Star Original Productions.
El Grito De Las Mariposas is based on the true story of the 1961 murder in the Dominican Republic of the Mirabal sisters, who were opponents of the dictatorship of Rafael Trujillo. Meanwhile, Pancho Villa, El Centauro Del Norte, is a biopic of the Mexican revolutionary leader and O Rei Da TV centres on the life of Brazilian TV star Silvio Santos.
Release dates for the three series are yet to be confirmed, Arguindey said. "We are all adapting to a new landscape where platforms are learning the best way to reach their audiences. Our company has multiplied by ten its number of productions and we are really happy about the results."
Star+ also talked up Nada, written and directed by Mariano Cohn and Gastón Duprat, the duo behind Venice Film Festival titles Official Competition and The Distinguished Citizen.
The story of a veteran writer, Nada stars Luis Brandoni, who previously worked with Cohn and Duprat in the film My Masterpiece. It includes a supporting turn by Robert De Niro, "who loved the screenplay" and was happy to board the project, said Pérez.