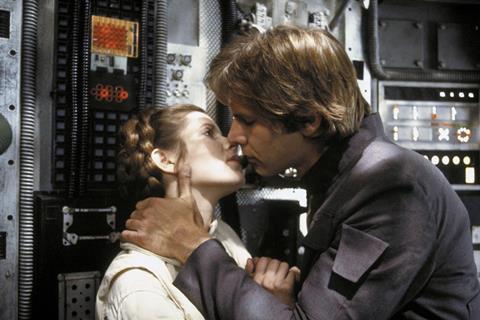 | | | | | |
| --- | --- | --- | --- | --- |
| Rank | Film (Distributor) | Three-day gross (Jul 10-12) | Total gross to date | Week |
| 1 | Star Wars: The Empire Strikes Back (40th anniversary) | £50,511 | £50,511 | 1 |
| 2 | Onward (Disney) | £35,540 | £5.4m | 5 |
| 3 | Trolls World Tour (Universal) | £20,911 | £65,768 | 2 |
| 4 | Black Water: Abyss (Altitude) | £19,524 | £28,066 | 1 |
| 5 | Dirty Dancing (30th anniversary) | £115,134 | £265,098 | 165 |
GBP to USD conversion rate: 1.26.
Disney's 40th anniversary re-release of Star Wars: The Empire Strikes Back topped the box office in the UK & Ireland this past weekend, as cinemas continued to reopen following the coronavirus shutdown.
The film played in 94 locations; it has grossed £50,511 from those that have returned figures, with a £500 average.
The second title in the Star Wars saga grossed £9m on release in the UK in 1980. A 1997 re-release took £7.2m; while a presentation through single-location event cinema specialists Secret Cinema brought in £6.3m in 2015. The four separate releases provide a cumulative total of £22.6m.
Select cinemas are open in England and Northern Ireland; the latter allowed screenings for the first time since the lockdown this weekend, although, like England, most cinemas in the territory are yet to reopen.
Venues in Scotland are allowed to reopen from Wednesday, July 15; and in Wales from July 27. Cinemas in the Republic of Ireland have been allowed to operate since June 29.
Disney also achieved second place at the box office, with last weekend's number one Onward taking £35,540 from 85 locations for a £370 average.
New titles
Of the two new titles to hit UK and Irish cinemas, Altitude's Black Water: Abyss scored the stronger result, grossing £19,244 from 70 locations for a £244 average. It was the fourth highest-grossing title this weekend; including previews from the previous session, the film has £28,066.
The film follows five friends exploring a remote cave system in Northern Australia who find themselves threatened by a hungry crocodile.
Parkland Entertainment's Love Sarah took £4,724 from 26 locations for a £118 average, and has £6,131 in total. It is about a young woman who enlists the help of her grandma and an old friend to fulfill her late mother's dream of opening a bakery in Notting Hill, London.
Top performers
Catalogue titles still dominate the box office, with distributors holding off releasing most new material until more cinemas have reopened and audience confidence has grown.
The strong performers from this weekend included Lionsgate's Knives Out, which took £14,747 from just four locations for a £2,949 average and £13.2m total cume; and Park Circus' Adventures Of Priscilla, Queen Of The Desert, which drew £10,220 from playing two locations on Saturday alone.
Anniversary re-releases of Dirty Dancing (30th), Grease (40th) and The Shawshank Redemption (25th) all entered the top 10. Dirty Dancing took £15,134 and a £605 average; Grease brought in £14,416 at an £801 average; while The Shawshank Redemption managed £13,231 and a £735 average.