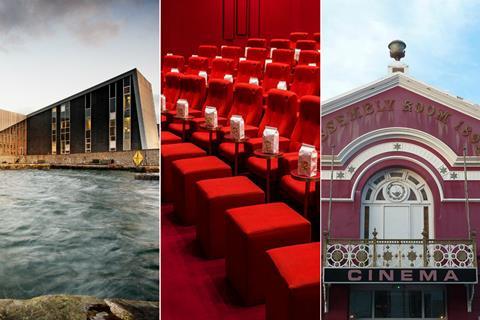 Cinemas in the UK are preparing to reopen in spring 2021, following months of closures over winter due to the Covid-19 pandemic
This page will update with the latest information on when UK sites are opening. For cinema operators, to add or amend the confirmed reopening date for your venue to this page, please contact Ben Dalton at Screen.
Indoor cinemas are allowed to reopen in England, Scotland and Wales from May 17; and in Northern Ireland from May 24.
Outdoor cinemas including drive-ins were allowed to reopen from April 12 in England, with no curfews in place for any venues.
May 17:
The Abbey Cinema, Abindgon
BFI Southbank, London
Curzon Aldgate, Bloomsbury, Canterbury, Colchester, Knutsford, Oxford, Soho, Victoria
Everyman Cinemas
Fellinis, Ambleside
HOME, Manchester
The Light Addlestone, Stockport, Thetford
Odeon Cinemas
Parkway Cinemas Barnsley, Beverley, Cleethorpes, Louth,
Prince Charles Cinema, London
Reel Cinemas, including new Blackburn venue
Scott Cinemas
Showcase Cinemas
Vue Cinemas
Zeffirellis, Ambleside
May 19:
Aldeburgh Cinema, Suffolk
Broadway Cinema, Nottingham
Cineworld, Picturehouse Cinemas
May 21:
Catford Mews, Lewisham
Empire Cinemas Ipswich, Sutton, Swindon, Walthamstow, Great Park
The Light Cambridge, New Brighton, Walsall
Palace Cinema, Alton
May 26:
Empire Cinemas High Wycombe, Sunderland, Wigan
May 28:
Empire Cinemas Bishops Stortford, Catterick, Haymarket, Slough, Sutton Coldfield, Clydebank
The Light Bolton, Bradford, Sheffield, Wisbech
June 4:
Curzon Hoxton, Mayfair, Richmond, Sheffield, Wimbledon