Star Wars: The Last Jedi, which begins its roll-out today, is set to open on more screens and with significantly more showings in the UK than its predecessor The Force Awakens.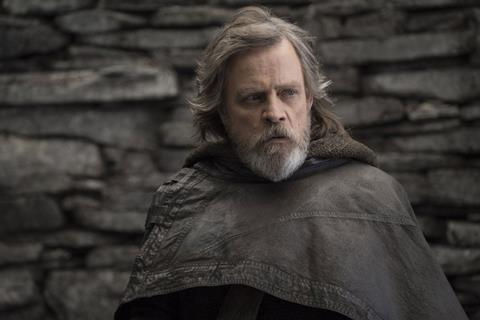 UK theatrical advertising bookers Digital Cinema Media (DCM) and Pearl & Dean, who between them oversee 100% of the UK's cinema real estate, have confirmed to Screen that they are seeing a significant increase in the number of showings of The Last Jedi on its opening weekend in comparison with The Force Awakens in 2015.
Tom Linay, head of film at DCM, said that in comparison with its predecessor, there was a 21% increase in showings of the film on its estate.
While Disney is yet to confirm how many sites The Last Jedi will open in [the recent UK site opening record of 680 is held by Force Awakens and The BFG], it seems that this time around, cinemas are giving Star Wars the widest possible berth.
Mike Hope Milne, the acting CEO of Pearl & Dean, didn't disclose exact figures but said that his company had also seen "a big uplift compared to The Force Awakens" in terms of showings.
He added that his expectation is that it will "kick off with a bigger bang" than The Force Awakens, and that it "should be a bigger opening weekend".
Linay said he didn't expect The Last Jedi to match the opening of The Force Awakens, but that it looked set to be the second biggest four-day opening of all time.
A wider berth
One of the reasons for the extremely wide release could be that cinemas underestimated how well The Force Awakens would perform, with few predicting its £9.68m opening day, a UK record, and its opening Fri-Sun of £24.33m, also a UK record.
Both Linay and Milne agreed that competition for Star Wars from other releases this year was even scarcer than in 2015.
"When The Force Awakens came out, it was a slight unknown. This time around cinemas are dedicating more screengs to The Last Jedi because it's more of a certainty than two years ago," said Milne.
"There is a lot of space for The Last Jedi to come in and open with a huge screen count," added Linay. "Last time [with The Force Awakens] there wasn't a comparison, this time we all know what is possible and cinemas know it's a big opportunity."
Last weekend, the UK box office recorded its lowest weekend since mid-October 2013, evidencing the scarcity of competition in the run-up to The Last Jedi's release. That figure didn't include previews of Jumanji: Welcome To The Jungle, though that film has now left cinemas and won't re-appear until its official release on Wednesday, December 20.
However, there is stronger competition coming in the weeks after its opening weekend, including Jumanji and Pitch Perfect 3 (also going wide on Wednesday, December 20) and The Greatest Showman (Tuesday, December 26).
Both Linay and Milne expect The Last Jedi to cross £100m by the end of its run, but don't predict it to top The Force Awakens' record-shattering total of £123.2m. James Bond film Spectre on £103.2m looks a realistic target.