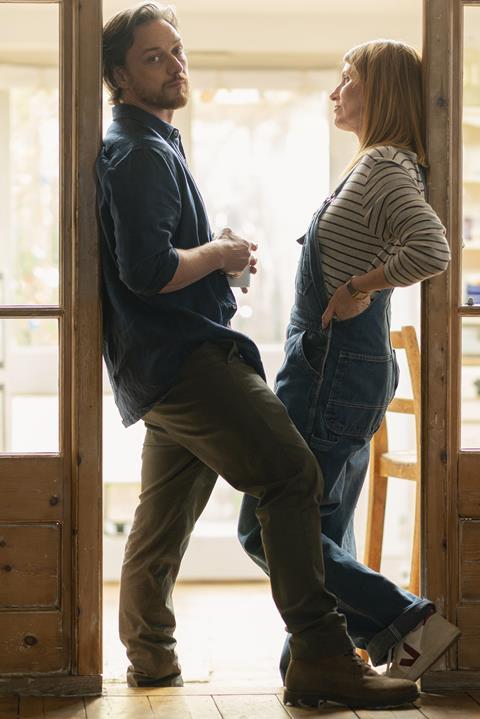 The UK's Stephen Daldry has directed James McAvoy and Sharon Horgan in Together, a family drama set during the Covid-19 lockdown.
The UK's Shoebox Films and Sonia Friedman Production have produced the feature for BBC Film and BBC Two, with Endeavor Content on board to handle worldwide sales outside of the UK. A first look at the film has been released today and can be seen here.
The film will air on BBC Two in the UK in the coming months but may receive a theatrical release internationally.
The script is by Dennis Kelly, who previously collaborated with Horgan on sitcom Pulling and also wrote Jude Law feature Black Sea and TV mystery dramas Utopia and The Third Day.
Together spans the first days of the lockdown in March 2020 to the present day. Horgan plays a charity worker, credited as 'She', while McAvoy plays 'He', the owner of a computing consultancy who has been forced to furlough his staff and take up growing vegetables. Arty is their 10 year-old son and the one thing that has kept his parents relationship together - until lockdown.
The feature shot over 10 days from April 21 to May 5, and was filmed in one house, where the entirely of the story unfolds. A reduced crew shot the feature under Covid-safe protocols.
It marks the first feature from Daldry since 2014's Trash, having previously directed Billy Elliot, The Hours and The Reader as well as episodes of Netflix drama The Crown.
Producers are Guy Heeley, whose features include Locke and Denial, and theatre producer Sonia Friedman, whose TV credits include Uncle Vanya, The Dresser and Wolf Hall. Executive producers are Dennis Kelly, BBC Film director Rose Garnett and the BBC's Gaynor Holmes.