Director of The Queen, Philomena and the upcoming Lance Armstrong biopic to receive honour at BFI London Film Festival.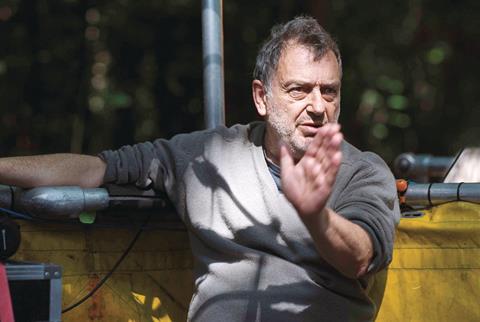 British director Stephen Frears is to receive a BFI Fellowship on Oct 18, ahead of the close of the 58th BFI London Film Festival.
The BFI Fellowship is awarded to individuals in recognition of their outstanding contribution to film or television and is the highest honour bestowed by the organisation.
BFI chairman Greg Dyke described Frears as one of the UK's most important directors.
"Throughout his extraordinary career, Stephen has produced a body of work which never fails to surprise – from sweeping costume drama to powerful social realism, his films strike a perfect balance between drama, humour and pathos helping to make them a hit with audiences and critics alike," added Dyke.
Frears said he was "thrilled" to be receiving the honour. "I've spent much of my life in the cinema and quite a lot of it at BFI Southbank," he added.
Frears made his name in TV drama, working almost exclusively for the small screen in the first 15 years of his career with writers including David Hare, Alan Bennett, Tom Stoppard and Stephen Poliakoff.
In the mid 1980s he turned to the cinema, shooting The Hit (1984), starring Terence Stamp, John Hurt and Tim Roth. The following year he made My Beautiful Laundrette for Channel 4, which crossed over to big-screen audiences and altered the course of his career.
After directing its companion piece Sammy And Rosie Get Laid and the Joe Orton biopic Prick Up Your Ears, he began working in Hollywood, with Dangerous Liaisons and The Grifters, for which he was Oscar-nominated, among his most notable titles.
Returning closer to home, he directed The Snapper and The Van, two Irish films based on Roddy Doyle stories and after a second spell of making American films (The Hi-Lo Country, Accidental Hero and High Fidelity) based himself largely in Britain.
Frears then made two vastly different movies: Dirty Pretty Things, a realistic account of immigrant life in London, and Mrs. Henderson Presents, a nostalgic backstage comedy-drama.
For his 2006 film The Queen he was again nominated for an Oscar. His subsequent films include Chéri, Tamara Drewe and Muhammad Ali's Greatest Fight, produced by HBO.
Frears' most recent film Philomena, starring Judi Dench and Steve Coogan, won a BAFTA, and was nominated for three others, along with three Golden Globe and four Oscar nominations.
His next feature is an untitled Lance Armstrong project, currently in post-production, that stars Lee Pace, Ben Foster and Dustin Hoffman.
The BFI Fellowship will be presented at the annual Awards Ceremony of the BFI London Film Festival, which will see prizes presented for its competitive sections.