We Are Your Friends, Maze Runner sequel and Legend also chart.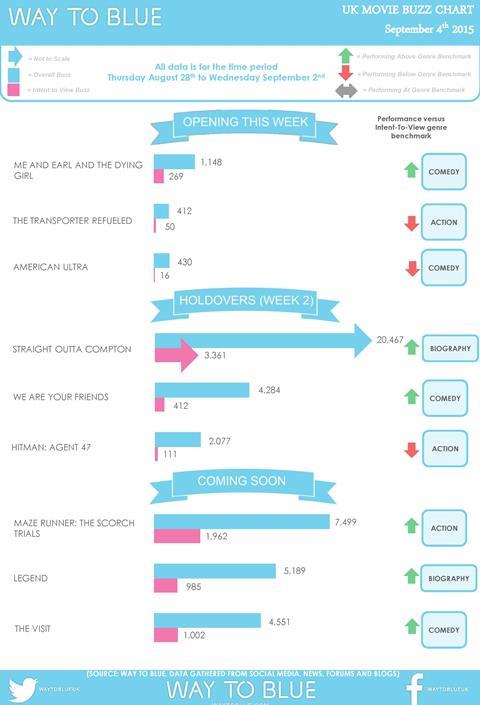 Straight Outta Compton, the story of hip hop crew NWA, has topped the UK movie buzz chart for a third week ahead, after a week on release.
The film, directed by F Gary Gray, generated nearly 20,500 mentions across social media, news, forums and blogs, according to analysis firm Way To Blue.
Of those, 16.4% expressed intent to view, meaning they would look to convert comments into cinema tickets.
YA sequel Maze Runner: The Scorch Trials ranked second ahead of its release with close to 7,500 mentions and a strong intent to view of 26.2%.
British drama Legend, in which Tom Hardy plays both gangster brothers The Kray Twins, came third ahead of its release with nearly 5,200 mentions (19%).
Zach Efron's We Are Your Friends ranked fifth after a week on release with close to 4,300 mentions – a 9.6% ItV, reflecting its underperformance at the box office.
Due to the volume of titles on release in the UK this week, Way To Blue raised its cut off point to 400 mentions.
This means that No Escape (168 mentions) and Ricki and the Flash (161 mentions) were among the titles that did not make it into this week's buzz charts.