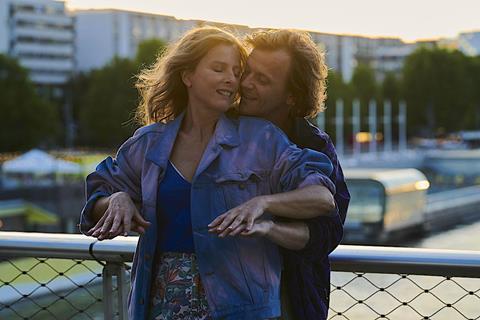 Studiocanal has inked deals in key European territories for Alex Lutz's twisty romantic drama Strangers By Night (Une Nuit) following its Cannes premiere as the closing night film of Un Certain Regard.
The Paris-set love story, written by and starring Lutz opposite Karin Viard, has sold to Wanted in Italy, Lusomundo in Portugal, Scanbox in Scandinavia, Kino Swiat in Poland, Mars Films in Turkey, Arthouse in Ukraine and O'Brother in Benelux. Studiocanal will release the film in France on July 5 and also in Germany, while UK rights remain available.
Lutz and Viard star as the titular strangers whose chance encounter in the Paris metro begins with a heated argument and transforms into an impulsive, passionate romp in a nearby photo booth before taking viewers on a wild ride through the streets of the city, from crashing a party to an impromptu meal to a swingers club, until the sun rises with a final plot twist.
The film is produced by Didar Domehri's prolific Paris-based production house Maneki Films in co-production with Belgium's Versus Production. Maneki is also behind Etienne Comar's 2021 film Singing Jailbirds that also stars Lutz.
Lutz is best known for his comedy Guy that premiered in Cannes' Critics' Week in 2018 and went on to earn six Cesar nominations, including best actor, which Lutz won. He also starred in Gaspard Noé's Vortex, presented in Cannes Premiere in 2021.
A Parisian tryst
Lutz told Screen that his idea for the film came from an argument he observed between a man and a woman on a Paris metro who bumped into each other. Their angry, often witty exchange set Lutz's imagination in motion as he turned their real-life dialogue into "pretty much the first scene of the film in its entirety" and he then imagined them pursuing the encounter.
Adding more to the plot would reveal several spoilers of the ostensibly simple story with a touch of Richard Linklater's Before Sunrise trilogy that instead plays out almost like a thriller on screen.
Lutz wrote the role specifically with Viard in mind, recalls Domerhi. "He didn't want to do the film with anyone else. He had the idea of doing it with Karin from the first second he had the idea," Domehri said. "They rehearsed a lot and co-wrote together. The chemistry in the film was happening between them on a human level and an artistic level."
Lutz first wrote solo then joined forces with his first AD Hadrien Bichet and Viard who are on board as co-writers of the script.
From a production perspective, Domehri said that "the challenge was finding partners to accept this project that on paper could have made them scared. It is the pure vision of an auteur."
The €2.5m film was shot in just 14 days in June and July 2022, mostly on the streets of Paris with some interior scenes and mostly at night.
Lutz originally wanted to film the entire movie in one night – une nuit per the French title – but compromised with the two-week shoot. "We wanted to stretch the night as much as we could, but in a very short period of time to give the film an intensity, a fragile energy," Domehri said.
Lutz explained: "The limited number of shooting days created a sense of artificial urgency that needed to be palpable on screen. We needed to feel that time is running out before daylight like the characters. The short shoot reminded us of the urgency each time the sun rose and created suspense."
Cannes premiere
Lutz is no stranger to Cannes, or to closing night (Guy closed Critics' Week in 2018) but with his return to the festival to close Un Certain Regard, he said he felt "much more pressure" the second time around.
However, the film premiered to a standing ovation among the very international audience gathered for Un Certain's Regard's pre-film awards ceremony. "It's a very intimate and personal film, but it's also very universal," Domehri said.
Maneki has also been a Cannes magnet of late with Hlynur Pálmason's Godland in Un Certain Regard and Erige Sehiri's Under the Fig Trees in Directors' Fortnight in 2022, João Paulo Miranda Maria's Memory House in Official Selection in 2020, Eva Husson's 2018 competition feature Girls of the Sun, and Santiago Mitre's 2017 Un Certain Regard film El Presidente following the filmmaker's 2015 Cannes Grand Prix and Fripesci prize-winning Paulina.