Teaser trailer released of period drama starring Carey Mulligan about women's fight for the vote.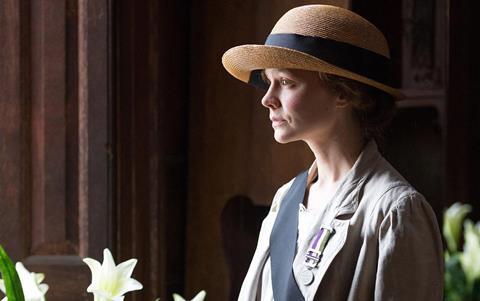 Suffragette is to open in UK cinemas on October 30, 2015, Pathé announced today.
The film centres on the ordinary British women at the turn of the 20th century who risked everything in the fight for equality and the right to vote.
With the UK General Election taking place on May 7, Pathé has released a teaser trailer in support of the #votingmatters campaign (after more than 9 million women failed to vote in the 2010 election, there is a major campaign to get women to register to vote before the April 20 deadline).
Suffragette stars Carey Mulligan, Helena Bonham Carter, Brendan Gleeson, Anne-Marie Duff, Ben Whishaw and Meryl Streep.
The film is directed by Sarah Gavron, who reteams with her Brick Lane screenwriter Abi Morgan (The Iron Lady), and is produced by Faye Ward and Alison Owen (Saving Mr Banks).
Mulligan plays Maud, a working class 'foot soldier' in the early feminist movement as they fought for the right to vote and became radicalised, turning to violence as the only route to change.
The film is produced by Ruby Films for Pathé, Film4 and the BFI in association with Redgill Productions and with the participation of Canal+ and Cine-Cinema.
Executive Producers are Cameron McCracken, Tessa Ross, Rose Garnett, Nik Bower, James Schamus and Teresa Moneo. The late Chris Collins was the lead executive for the BFI.