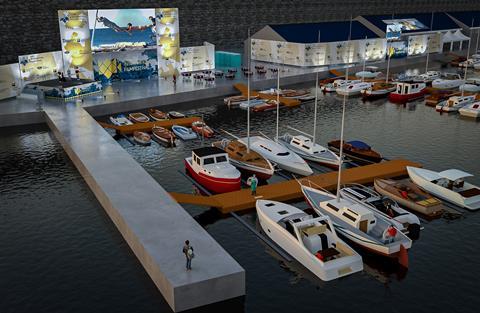 The Carl International Film Festival in Karlskrona, Sweden, is planning to offer a local twist on the drive-in: the boat-in.
Karlskrona is the most southern Swedish archipelago made up of 1,650 islands, islets and skerries. In consultation with the local government, police and coast guard, CIFF will host screenings in Saltö Fish Harbour.
They plan 30 screenings across the six days (Aug 21-26). Screenings will include both international films and Swedish classics. Boat-bound audiences will be able to order food from restaurants to be delivered from bridges.
"This is going to be the world's first film festival on water where the audience keeps a safe distance from each other by staying on their boats and watch films," said festival director Henrik JP Åkesson Ruben, who added that security measures will include security staff and divers in the festival's maritime area.
Two LED screens will be erected, the main screen will be 81 square metres and the second screen will be 21 square metres. Up to 100 boats will be able to fit into the "festival harbour."
Audiences on land will also be able to watch the films, but the number of land spectators allowed will depend on the latest government social distancing and gathering guidelines.
The festival, now in its fourth year, will also include music, interactive seminars and conversations with filmmakers. The theme for this year's festival is "From Hope To Action."
Carl Film Forum will run in conjunction with the festival, and this year also includes the ambitious Carla Global Digital Conference on Diversity and Inclusion in the Film and TV industry.
Sweden is this year's focus country and Ruben noted: "We will discuss the history of Swedish cinema through talks and screenings of classic films, and interact with the audience. We will screen classic films from several Swedish directors, among them Jan Troell, Suzanne Osten, Ingmar Bergman, Lars Molin, Marie-Louise Ekman, Mikael Ekman, Lasse Hallström, Lasse Åberg, Hans Alfredsson, Tage Danielsson, Hannes Holm among others."
The Baltic Sea Competition will also run for the third time, awarding the Carl's Crown Award with a prize of €2500 (25,000 SEK). The festival also screens films from the Baltic Sea region outside of the competition.
Festival passes will be available for one day, half-day, or the entire festival. Depending on the size of the boat, charges are about €40-80 per boat per day.
The harbour will be the festival's only physical venue this year, but they will stream talks and some films on their own streaming platform integrated with ticketing platform Eventive.